Grape, Feta and Mint Quinoa Salad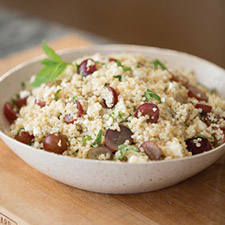 From the juicy burst of flavor to the vibrant array of beautiful reds, greens and blacks — fresh grapes are a top choice for home cooks and health-conscious eaters alike. While shoppers often choose this tasty fruit for in-between meal snacking, grapes can also boost the "healthy" factor in recipes, while adding bright, beautiful color to salads, entrees and desserts. They can make any of your favorite dishes healthier, and can make already healthy ones taste even better.
Ingredients
1 cup quinoa
1 1/3 cups water
1 cup red seedless California grapes
1/2 cup crumbled feta cheese
1/2 cup fresh lemon juice
8 fresh mint leaves, coarsely chopped
Sliced green onion tops (optional garnish)
Preparation
Rinse quinoa in fine-mesh sieve. Put in medium saucepan with water and bring to a boil; reduce heat and simmer, covered, for 12 minutes. Remove from heat and let stand for 10 minutes. Remove cover and fluff with fork. Cover and refrigerate until chilled.
Stir together quinoa, grapes, cheese, lemon juice and mint in large bowl. Top with green onions, if desired.
Serves
4 servings
Calories: 228g Total Fat: 6g
Cholesterol: 17mg Protein: 8g
Carbohydrates: 36g Sodium: 222mg