Good Food, Good Service at Duckworth's in Ballantyne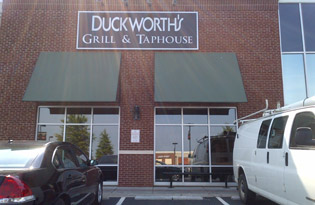 Duckworth's Grill & Taphouse
Ballantyne –14015 Conlan Circle
704-752-7284
Other locations: Park Road and Mooresville
duckworths.com
$-$$
On a recent visit to Duckworth's Grill & Taphouse in Ballantyne, we found exceptional service, great food and a pleasant atmosphere. My friends and I visited for lunch on Thursday and Saturday. The weekday crowd included many business people out for lunch, but there were other families, and the restaurant was loud enough that our four young children didn't seem to disturb anyone.
Since the walls are lined with large, flat screen TVs showing only sports (we asked if we could change one to Nick Jr. and were told it wasn't possible) and the taphouse boasts 60 kinds of beer on tap, I'm sure it can be a different environment on a weekend game night, but it was a perfect family place during our visits. As a bonus, kids eat free all day on Tuesdays and Thursdays.
Upon arrival a manager saw us coming with our brood of kids and rushed outside to help us. Our server went above and beyond meeting our basic needs and offered personal recommendations from the menu.
The menu has a little of everything, including sweet potato fries, salads, pizza, fajitas, burgers, ribs and fish. The children got their own crayons and menus, which included burgers, hot dogs, pizza and chicken tenders. Each child's entrée included a side dish and a drink.
Our group ordered a delicious flatbread bruschetta, a buffalo chicken wrap, a fajita chicken quesadilla, and a spring mix salad with chicken. My salad tasted very fresh with just the right amounts of each of the toppings.
Although I'd probably prefer going for date night or with a group of friends during a Carolina Panthers game, Duckworth's certainly surpassed my expectations for being a family-friendly establishment.
SIDE DISH
Milk and Juice: Both | Changing Stations: Yes | Kids' Menu: Yes
Symbol Key: $ = under $10 • $$ = $11-$15 • $$$ = $16-$20 • $$$$ = $20-plus
> Read last month's restaurant review: The Pizza Peel