Good Deeds: The Peetz Family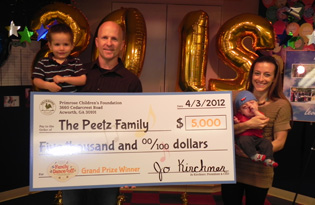 The Peetz family of Kannapolis danced their way to a grand prize win in Primrose School's Family Dance-off contest with their "Shake That Peetz Family" video. The Peetz won a $5,000 cash prize, and a $30,000 donation for Levine Children's Hospital, a Children's Miracle Network Hospital.
The donation is particularly special for them, as their son Jonathan was treated for a number of severe health problems after being born at Levine Children's Hospital. "Five surgeries and eight months later, Jonathan smiles, giggles, eats well, and can even respond to voices and light," says Lauren Peetz. The Peetz are grateful to be able to contribute to helping other children receive the same love and care at the children's hospital.
Primrose Schools is donating a total of $81,000 to the hometown Children's Miracle Network Hospitals of the 16 contest finalists.