Good Books, Better Health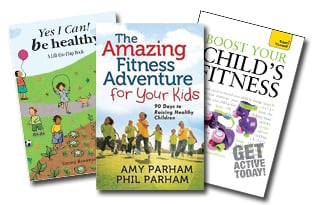 "Yes I Can! Be Healthy: A Lift-the-Flap Book" by Emma Brownjohn (Tango Books, $12.99) is an entertaining guide for young readers on leading a healthy lifestyle. Preschoolers will love lifting the flaps on each page and discovering tips on eating right, staying active, sleeping and drinking enough water. Ages 3-5. Hardcover.
"The Amazing Fitness Adventure for Your Kids" by Amy and Phil Parham (Harvest House, $12.99) provides a 90-day roadmap to a healthy lifestyle with stronger and healthier kids. As contestants from season six of NBC's "The Biggest Loser," these South Carolina parents of three know about transformation. Paperback.
"Boost Your Child's Fitness"by Ceri Roberts (Teach Yourself, $15.95) helps families get moving. Did you know children are often more willing to eat fruit and vegetables if they have helped grow them? Gain insight into children's development and find ways to make health fun for kids. Paperback.