Go on a Mural Scavenger Hunt in Charlotte
Charlotte's Gold District wall murals tell stories of the past and present, with a nod to the future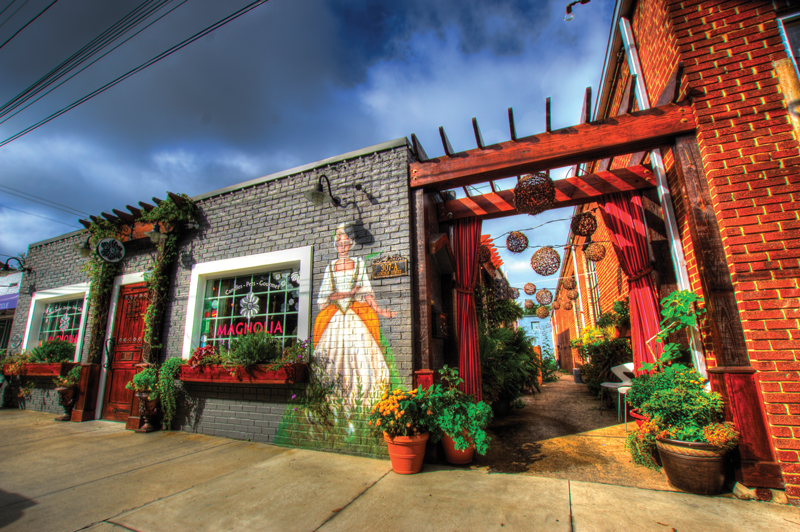 The ongoing compilation of mural art projects around town has created an opportunity for a self-guided outdoor, educational experience, free for everyone to enjoy any time of year. Wall art is growing by leaps and bounds with hand-painted murals adorning the walls of buildings in many sections of the city.
Thanks to nonprofits, numerous grants and local business owners, stories come to life, told through art created by local artistic talent. The Gold District to the west of uptown is a particular section of the city that offers the chance to learn a bit of history while enjoying a mural art as a family.
History Lesson
The streets of the Gold District have a story to tell. Children may be fascinated to learn that underneath the soles of their sneakers there really could be glittery gold nuggets waiting to be unearthed. There were 60 mines in operation in Charlotte by 1891, and there was a whopping $2.6 million in gold extracted from the ground. If it couldn't get any more interesting, royalty owned and leased gold mines in the district. In fact, in the 1830s, a charismatic Italian Count by the name of Don Vincenzo de Riva Finoli had his very own mine called, the Rudisill Gold Mine. The mysterious Count Don Vincenzo de Riva Finoli walked a secret path while on his way to visit his gold mine that is now the alley next to the Magnolia Emporium store. Close to his side was his trusted canine companion, a golden retriever named Augie (AU the chemical symbol for gold).
Fast Forward
Randolph James, owner of the Magnolia Emporium, Gold District board member and interior designer, is animated when he describes how he feels to be sitting atop a gold mine. "We struck gold when we came to the gold district four years ago. Every day I discover amazing facts that I was never aware of before. Living in the Gold District honestly feels just like a scavenger hunt."
James is right. The history goes back to the times of the conquistadors, dating back from 1799 to the present day. More historical facts can be found online at thegolddistrict.org.
James decorated the once-secret passageway next to his shop with quaint tables, chairs, clay pots and hand-painted signs that create a welcoming space for visitors. Illuminated by lighted spheres strung overhead, it's an invitation to walk the brick-lined path that the Count did so many years ago.
The Murals
Mural art in the Gold District started with the idea of bringing together neighbors in the Gold District, Wilmore and Historic Southend to paint a wall. The community wall is found on a sidewall of Magnolia Emporium parallel to the alleyway and is a public table of contents that includes the logos of community business owners. Wake the Queen, located on the front of Magnolia Emporium, was the virgin voyage of mural art in The Gold District. It showcases Queen Charlotte of Mecklenburg, a supporter of the arts. The Gold District board and local businesses have a consensus of thought and a dedicated plan to commission more mural art, with five already brightening bland brick walls in the area.
"The plan is to elevate and enrich the experience for all of the parents, kids, and friends that journey to see us," James says. "What is really exciting is that The Mint Museum is bequeathing mining equipment, once used to dig for gold, which will be placed in a nearby park. And the metal rails used to transport mining carts will become sculpture. All of it could not be accomplished without a community of people working together to make it happen."
The Future
Being family friendly is on an upward trend thanks to educator, Gold District board member, and CFO of Magnolia Emporium, Robert Naylor. He fuels educational initiatives for the district, including a plan for a downloadable mobile phone app for visitors. The app will provide a self-guided tour that takes visitors on a historical journey through noteworthy sections of the area rich with historical facts and modern-day fun stuff.
---
Go on a Mural Scavenger Hunt
On Saturday, Feb. 9 from 11 a.m. to 4 p.m., families are invited to go on a walking tour in the Gold District in search of murals. The Mural Scavenger Hunt event begins at 11 a.m. and runs until 4 p.m. Snap pictures in front of the murals and tag Charlotte Parent (@charlotteparent) and The Gold District (@thegolddistrict) on Instagram, then show the posts to the staff at Magnolia Emporium to claim a cupcake (while supplies last). Mural artist Sam Guzzi also will be at Magnolia Emporium with a hands-on project that teaches the basics of color theory.
Below is a list of the district's murals and locations. Note: Stay on the main streets and avoid cutting through alleyways.
Mural: Wilmore Gold Mine
Artist: Tim Parati​
Location: Max and Lola's Bodega, 1501 S. Mint St.
Mural: QCity Angels
Artist: Rosalia Torres-Weiner
Location: Max and Lola's Bodega, 1501 S. Mint St.
Mural: Geometric Unknown
Artist: Andy Rocco
Location: The Unknown Brewery, 1327 S. Mint St.
Mural: People the River
Location: Magnolia Emporium, 307 Lincoln St. Rivafinoli Passage (by Craft Growler Shop Patio).
Artist: Miouxnie​
Mural: Wake the Queen
Location: Magnolia Emporium, 307 Lincoln St.
Artist: Sam Guzzie
---
More Notable Murals
Take your scavenger hunt to even higher heights by venturing into a wider geography. Although the list of mural art is too long to include all of them, here are a few notable murals that are not to be missed. For more information on Charlotte's art murals, check out Talking Walls Festival Instagram page @talkingwallscharlotte.
Mural: Skyline Superette​
Location: 1725 Statesville Ave., Charlotte
Artist: Bree Stallings
Mural: Solstice
Location: NoDa, former Solstice Tavern, 3221 N. Davidson St.
Artist: Nick Napoletano
Mural: Fibonacci
Location: NoDa, former Solstice Tavern, (side wall), 3221 N. Davidson St.
Artist: Jonay Di Ragno
Mural: Adorable Ice Cream Monsters
Location: Plaza-Midwood, 913 Central Ave.
Artist: Miriam Medrano-Yumet
Darla Desiderio is a local freelance writer and author of the children's book series "Gage the Flying Whippet."