Gluten-Free French Toast Casserole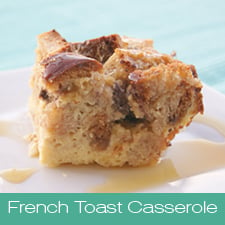 If anyone in the family suffers from celiac disease, or any kind of wheat allergy, this French Toast Casserole is gluten-free, too. Small hands can pinch cubes of bread, while Mom or Dad mixes the other ingredients. Put in the fridge overnight, and in the morning, easy, delicious breakfast. 
Ingredients:
1 loaf French Meadow Gluten-Free Cinnamon Raisin Bread, cubed
2 oz golden raisins
4 oz cream cheese
4 eggs
¾ cup milk
2/3 cup half and half
¼ cup maple syrup
1 teaspoon vanilla extract
½ teaspoon salt
Directions:
Grease an 8×8 baking pan and place the cinnamon bread cubes and the golden raisins in the pan. Place the remaining ingredients in a blender or food processor and blend. Add blended mixture to the raisin bread mixture, press down and let soak in. Cover and refrigerate overnight. Next morning place in a 350°F oven and bake for about 40-50 minutes until golden brown. Serve with fresh-sliced fruit.