Give Your Kids a Lifetime of Learning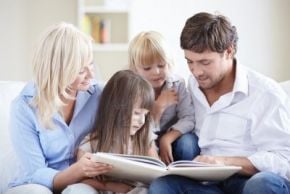 Every parent can look back and see things they did incredibly well and then also see areas where they might have needed some improvement. One of the best things that my ex-husband and I did was instill in our children a love for reading. Children who are read to when they are young go on to do better in school, have a larger vocabulary, and go farther with their education.
One way to encourage reading is to set a good example for them. This double chair and ottoman would be a perfect addition to a master bedroom or family room and gives your child the opportunity to see both parents enjoying reading as a natural part of life. The chairs are wide enough to welcome the child to your side for reading at bedtime or anytime.
When your child is reading on his/her own, take every opportunity to encourage the habit and make it fun and exciting. What child wouldn't love to have a flashlight of their own to hide under the covers with a book on a stormy day? Or cuddle in this hammock chair to read a favorite book? Make the experience enjoyable so your child will want to repeat it over and over again.
As the tween and teen years progress, your child will be drawn to electronic media so you'll face more of a challenge to get them unplugged. Providing them with a cool reading cave might be enough of an incentive to get them hitting the books again. It is all about offering the carrot rather than the stick.
Do you have any tricks you use to encourage reading at your home? Share them with the other parents in the comments section below!  
Barbara Green believes you can have it all: kids, pets and a beautiful home. She is the owner of Sensibly Chic Designs for Life and the host of Ask the Design Diva radio show, and insists you don't have to spend a million dollars to look like you did.