Give Your Child the Gift of Reading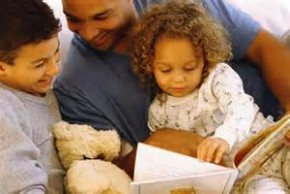 The greatest gift you can give your child is the love of reading. Start early by reading to them, and then encourage them to continue reading as they grow. Both of my children (now 22 and 28 yrs old!)  are avid readers and fondly recall the hours of their childhood being read to by me or their father. Reading to your child helps build a stronger relationship with you, leads to academic excellence, and better communication skills. A passion for reading provides older kids an escape from the pressures that are unique to this generation of tweens and teens.
Once your child is old enough to read independently, make sure you provide a comfy and inviting space for their reading pleasure. It doesn't have to be elaborate, it could be as simple as large throw pillows piled in the corner of the bedroom. Suspending a tent from the ceiling makes the space an even more cozy reading hideaway!
Window seats make treasured reading nooks year round. They are a simple construction project that can be added to rooms and don't need to cost a lot. You also get the added benefit of extra storage when you design a window seat with a lift-up top. Covered with a cushion and plenty of pillows, this window seat is a magnet to readers of all ages. 
A popular trend for furnishing living and family rooms is placing four comfy armchairs around an ottoman instead of using the sofa and loveseat combination. This would make a perfect reading center for a family of four. Parents can model the great habit of reading and everyone can enjoy their own favorite type of book.
Do you have any special ideas that your family uses to encourage readin? Share them in the comments section below!
Barbara Green is the owner of Sensibly Chic Designs for Life and the host of Ask the Design Diva radio show. She beleives you CAN have it all: kids, pets, and a beautiful home! Visit her showroom located at
830 Lamar Avenue, Charlotte or give her a call at 704-608-9424.