Girls' Bedroom Report from High Point Market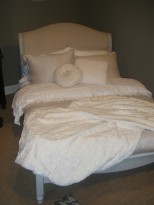 As I reported last week, I made my semi-annual trip to the International Home Furnishings Market and came back with some interesting new looks in kids' furniture. My last post reported on the boys, this week it's the girls' turn. What I noticed for girls was that the furniture was getting much more sophisticated. I've been putting linen upholstered beds in master bedrooms for years, and now the style has trickled down to the youth furniture market, as shown to the left. 
Another trend has been the increased glamour in the girl's department. This black lacquered daybed is one example. The back of the daybed is tufted in lavender fabric, a perennial favorite for this target market. While it looks like there are drawers beneath, it is actually another twin mattress that pulls out when needed. 
If that isn't enough glamour, you can select this Old-Hollywood style daybed that is in a shimmery silver paint finish. Once again, this daybed features the roll out twin trundle bed. 
If you are looking for bunk beds for your daughter's room, there was a glamorous option for that, too. This bunk bed set has tufted and upholstered end panels that also have trendy nail head trim up and down the edges. 
FInally, I do have an option for you if your daughter isn't into all of this glamourous stuff. Captain's beds, which are typically the boy's option, were included for girls this year. I think captain's beds make perfect sense for girls, because they offer so much extra storage than other types. 
Which bed best suits your daughter? We'd love for you to share in the comments section below.
Barbara Green is the owner of Sensibly Chic Designs for Life and the host of Ask the Design Diva radio show. Her showroom is located at 830 Lamar Avenue in Charlotte and is open by appointment only.
Please call 704-608-9424 to schedule your free private consulation.