Ginger Pancakes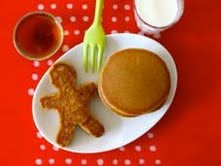 Serves 4
1 1/2 cups all-purpose flour
1/3 cup dark brown sugar
2 teaspoons baking powder
1/2 teaspoon baking soda
1 teaspoon cinnamon
1 teaspoon ginger
1/4 teaspoon nutmeg
1/4 teaspoon cloves
1/4 teaspoon salt
1 cup milk
2 tablespoons molasses
2 large eggs
2 tablespoons butter, melted and cooled
Whisk the dry ingredients in a bowl.
In a separate bowl whisk the liquid ingredients. Add the flour mixture to the liquid mixture and whisk until just combined. Let the batter stand for 10-15 minutes to thicken. Place 2 tablespoons of the mixture in a large greased saute pan over medium heat and cook for 2-3 minutes on each side. Serve with maple syrup or honey.
Catherine McCord, model, actress and mom of two, launched the renowned cooking website, Weelicious in 2007 to show parents how to cook recipes that are kid-friendly, quick and nutritious. With a culinary background at NYC's prestigious ICE and a passion for food, she makes cooking accessible using a few fresh, easy ingredients to make recipes that will appeal to a range of ages – from infants starting on solid foods to school kids and adults. ??