Gifts to Make for Dad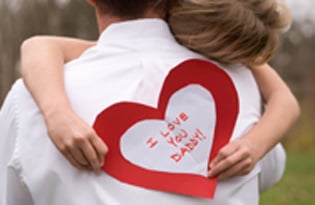 Not sure what to do with Dad this Father's Day? How about a hike in your local park? Or you could let Dad sleep in and make him breakfast in bed. The rest of the day should, of course, be chore-free for him.
Other ideas? How about a free golf pass? You also could give him a Daddy coupon to be redeemed for a night off of dish washing or laundry, or for free kisses and a batch of his favorite cookies.
Below are five more gift ideas that you can make for dear ole' dad.
Make Dad a kit and then offer to help wash his car.

With a few splashes of fabric paint and a little imagination, you can make a specially designed apron just for Dad.
Make a special frame that reflects Dad's personal interests.
Choose up-close, smiling family faces to fill these magnets for Dad.
Retro Father's Day Clipart Labels for his fave foods
Personalize his favorite hot sauce or pistachios with fun clipart labels.