Gifts That Give Back to the Community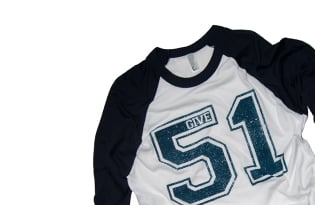 With the holiday season right around the corner, we thought it would be fun to share some local, fashionable companies that are making an effort to give back to the community. From jewelry to children's clothing, there is something for every stylish mama to give (and get) this holiday season.
Pictured: Give Fifty One
The Matching Dots
The Matching Dots is a Charlotte-based line of unique matching dresses for girls and moms who want to coordinate in style. For every dress sold, The Matching Dots feeds two hungry children through donations to the national organization Stop Hunger Now. As part of its campaign, the company partners with different celebrities throughout the year, and whenever they are spotted wearing a design by the brand, The Matching Dots feeds 200 hungry children on the celebrity's behalf. 20901 Catawba Ave., Cornelius. thematchingdots.com.

I.C. London
This veteran Charlotte lingerie store works with not-for-profit organization Bless Back Worldwide to provide both medical and nonmedical support for Haitian females in need. Last year, I.C. London sent more than 250 gently used bras donated by customers. The organization in turn gives a donated bra to each lady who signs up for the women's clinic in Haiti. Bring your gently used bra to I.C. London to donate to receive $10 off your next purchase. Village at South Park, 4310 Sharon Road. iclondon.com.

Erin McDermott Jewelry
Charlotte-based jewelry designer Erin McDermott handcrafted "The Holmes Team necklace," a sterling silver disc with the words "Love Heals" engraved on one side, to support the Desmelik family whose 5-year child has a brain tumor. $20 per necklace goes towards the Desmelik family's expenses with medical bills and other related costs. erinmcdermott.com.

Fashion and Compassion
Fashion and Compassion is a nonprofit established to assist women coming out of poverty, injustice and other difficult situations. The organization aims to connect communities with beauty and dignity by empowering women through holistic employment, connecting women with resources in the community and educating customers about issues women are facing locally and around the world. Through product sales of jewelry and accessories made by the women, all of the net proceeds are donated back to partners serving these women. 1717 Cleveland Ave. fashionandcompassion.com.

Give Fifty One
In December of 2011 Alexander Greer discovered that the 10-year-old child he was mentoring was homeless, and that the child was helping take care of his other younger homeless siblings. This realization inspired him to start Give Fifty One with friend Jonathan Jones. Through the sale of stylish watches and apparel for men and women, the organization gave 51 percent of its profits in its first year to help impoverished children in Charlotte. Since Sept. 1, 2014, the organization gives 100 percent of its profits. givefiftyone.org.

Julie Lopez Shoes
Julie Lopez, a former orthopedic nurse, tapped into her medical expertise to create her own collection of luxe shoes manufactured in Italy. Through the fall months, for all sales on its Edie Bordeaux Snake flat, the company donates $25 to earlier.org, an organization focused on early breast cancer detection. julielopezshoes.com.