Giant 3D Snowflakes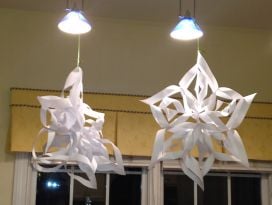 I fell into the trap. At the start of the school year, my daughter's school held an open house, and her very wise kindergarten teacher put out volunteer sign up sheets for events throughout the year.
I had to sign up for something, right? The class holiday party seemed a long way off. And now it's in a few days and I'm in charge of the craft station, where I'll be making giant 3-D snowflakes with 22 five-year-olds. Go big or go home, right?
I'm not sure what to expect. A friend of ours in Massachusetts recommended this project, which her kindergartener has mastered, so I've been testing it with Amelia and some of her friends. So far they all love it, and I love that it uses very simple, inexpensive materials. Each snowflake requires six sheets of plain copy paper.  You'll also need some tape and a stapler. That's all!
It seems complicated at first, but since each sheet of paper becomes one of the six sides of the snowflake, you have six opportunities to repeat-and master-the same steps.
This video tutorial is very clear and easy to follow, but here's a recap:
Fold one sheet of paper from the corner to the opposite side to create a square that is folded diagonally. Cut off the excess paper.
Keep the square folded so it looks like a triangle. Starting from the fold, cut through both layers about an inch from the left edge, stopping about an inch from the top. Don't cut anything off.  Repeat about an inch from the right edge.
Cut again, parallel to the original cuts, two more times on each side. You will have six cuts in all. If this seems difficult at first, it helps to draw the cut lines on the paper first.
Unfold the square.  Bend the innermost strips toward one another and tape them to create a cylinder. Flip the square over and tape the next pair of strips. Flip again and tape the outermost pair.
Repeat these steps for all six sheets of paper. (It really does get easier and much faster with each one.)
Staple three finished sheets together at their base, and staple the outermost taped point on the center sheet to the outermost taped point on the next sheets.  Repeat for the other three sheets.
Staple the two snowflake halves together at their base, and staple the outermost taped points on either side to complete the snowflake.
That's it! They look great hanging from ribbons, are fun to drop from staircase landings, and like real snowflakes no two are exactly alike. Once you've made your first, it becomes easy. Which is a good thing, because I'll be counting on Amelia to be my teaching assistant on Friday!
Happy Holidays!
Want more Mess? Drop by Melanie's blog, or visit her Etsy store, Made by Mommy!