Getting the Picture: The Bechtler Museum of Modern Art's 'Ten'
An art critic and his 5-year-old daughter offer their thoughts on a Mint Museum exhibit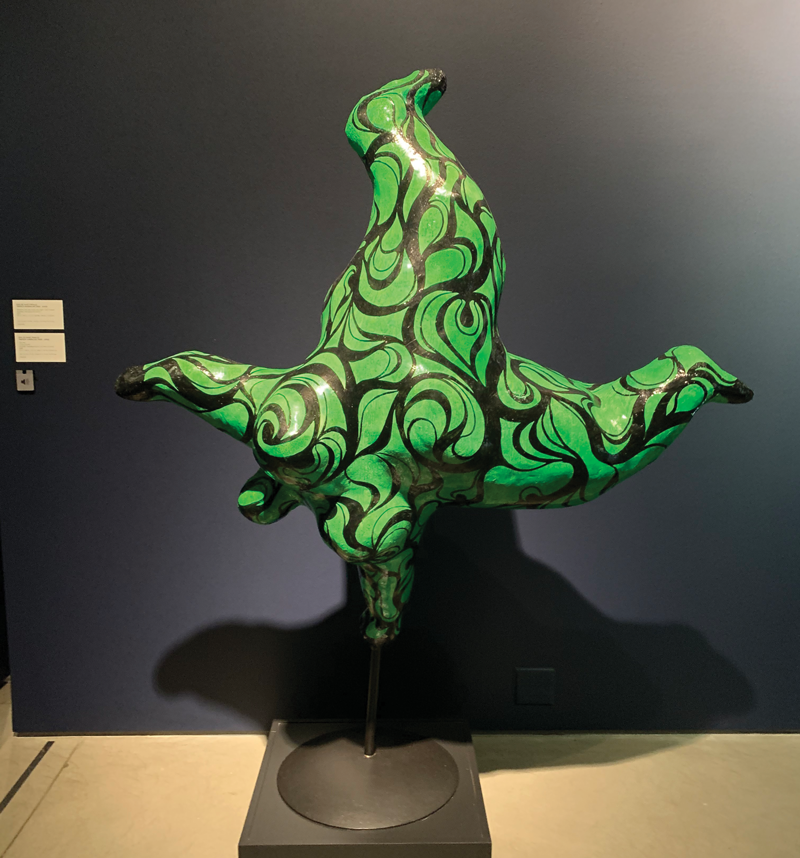 It's been a decade since the Bechtler opened its doors, and since then, this uptown museum has hosted more than 30 exhibitions. 'Ten' pulls work from 16 of those displays, including Wrestling the Angel: A Century of Artists Reckoning With Religion, Niki de Saint Phalle: Creation of a New Mythology, and The House That Modernism Built. Among the marquee names seen throughout the show: Pablo Picasso, Alfred Manessier, Victor Vasarely, and Sam Francis.
In our "Getting the Picture" column, my 5-year-old daughter joins me on a critical adventure into Charlotte's art venues. Each visit is an opportunity for us to hone her visual literacy, or the ability to make meaning from images. Below, Elliot and I have chosen our favorite pieces from the exhibition, along with short transcripts of our conversations about each one. For the purposes of clarity, I'm identifying myself as "Dad" below, and I've offered no context to Elliot before she offers her insights:
"A Door in the Woods," Gina Gilmour
Elliot: It's a little angel.
Dad: What do you think he's doing with that person?
Elliot: I think the angel is actually helping that person.
Dad: Oh, wow. Maybe.
Elliot: Because that person is trapped in ice. Can we do a picture? [This is a running theme in this column.]
"Vive Moi," Niki de Saint Phalle (top)
Even if you're not familiar with this sculptor and mixed-media artist, you know her work as a Charlottean. She's the artist behind the iconic "Firebird" sculpture that stands outside of the museum in uptown. Like other works from the artist, this figurative sculpture may appear abstract to the viewer until they confront it in person:
Elliot: It's a star. A big green star.
Dad: Is it?
Elliot: Oh, wait! I see it! It's a girl who's dancing, and she's upside down.
Dad: I think you're right!
Elliot: And she's green. I think she's a ghost.
"Projet Pour un Monument a W.C. Fields," Max Ernst
The German surrealist was inspired by the Mae West and W.C. Fields film "My Little Chickadee" in creating this seemingly gothic work. Elliot likened the style to The Nightmare Before Christmas.
Elliot: [Points left] I think he is outside a machine and she [points right] is inside of it.
Dad: Oh, really?
Elliot: It's kind of scary. She's got an umbrella, though. Can we go to the kids' area now?
Dad: Yeah.
ANDY SMITH is the executive editor of this magazine.