Getting the Picture: 'Coined in the South' at Mint Museum Uptown
An art critic and his 5–year-old daughter offer their thoughts on an uptown exhibit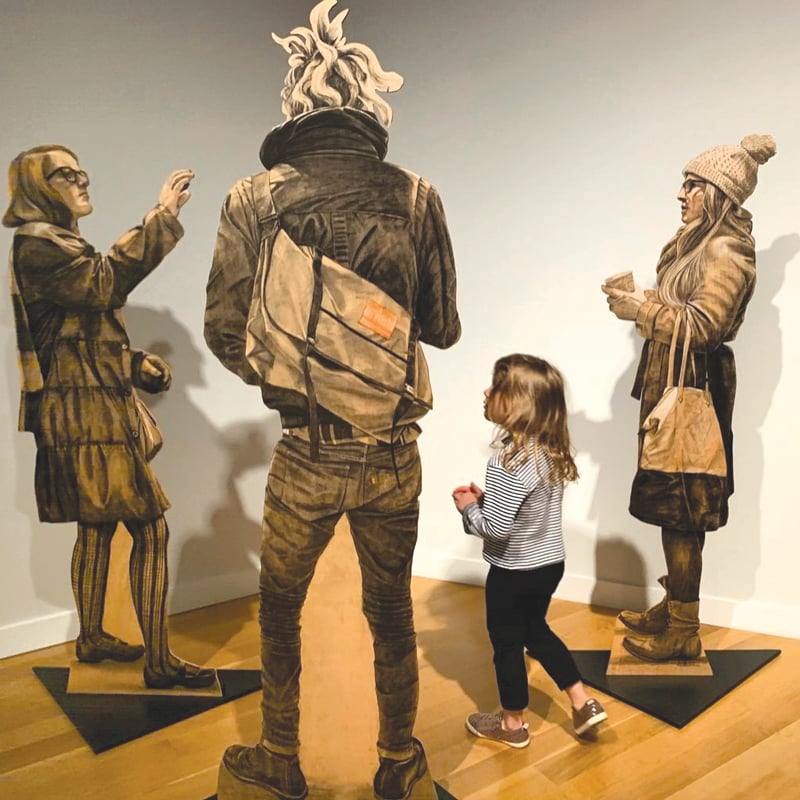 MY 5-YEAR-OLD HAS BEEN attending art shows and exhibitions with me since infanthood. Elliot does indeed say the darndest things, but that's not why I wanted to start a column about visual art that gives her a voice. Simply, I think her eyes are just as capable of extracting meaning from a gallery visit as a grad student specializing in Flemish Baroque painting. Her "visual literacy," or the ability to make meaning from images, is in a particularly chaotic period of formation right now. One of the beauties of art is that it finds us wherever we are in life, and no matter our familiarity with its endless depths of history and context, the door is open. That's why we decided to start this column: Getting the Picture.
Our first visit brings us to The Mint Museum Uptown's "Coined in the South." Running through February 16, this is the fourth annual show from The Young Affiliates, the museum's social arts group comprised mostly of millennials. The juried effort is to showcase "established and emerging artists currently working in and/or from the Southeast." Below, Elliot and I have chosen our favorite pieces from the exhibition, along with our thoughts about each one. For the purposes of clarity, I'm identifying myself as "Dad" below, and I've offered no context to Elliot before she offers her insights:
"The Old Fox," Yvette L. Cummings
This stirring acrylic painting speaks to both memory and trauma survival. Cummings often toys with focus and utilizes a collage-like approach to detail to further underscore how our brains remember.
Dad: So what do you think of this one?
Elliot: I think the painter did a good job on the fox.
Dad: Is that because it's the most detailed thing in the painting?
Elliot: Yeah.
Dad: Well, this painter is talking about memories, so she's made some things fuzzy and other things very clear. That's how memory seems to work, huh?
Elliot: Yeah. Will you take a picture of me in front of it?
Dad: Yeah.
---
"People, # 49, 50, 51," Denise Stewart-Sanabria (top of page)
Crafted in charcoal and pastel pencil on plywood, Stewart-Sanabria crafts life-sized depictions of people, often sourced from gallery shows the artist herself attends.
Elliot: Oooh, Daddy. Look at this.
Dad: Oh, yeah, these are all drawings on wood.
Elliot: (Peering around the other side of the center figure) Oh, he doesn't have a face.
Dad: So I guess we're supposed to only see this side of him? The artist wants us learn about him from this angle?
Elliot: Yeah, only the girls have faces, but not the boy. And I think they're lost in the snow.
Dad: Maybe, because of their clothes? Why do you think only some of their faces are shown?
Elliot: Because they're only statues. Can you take a picture of me here?
---

"Blonde Winch," Chloe Rager
One of the more conceptual pieces in the show, this installation consists of a hook and chain tethered to a block by blonde hair, which actually belonged to the artist. The ability for the hair to withstand the tension speaks to resilience and societal constraints.
Elliot: I think it's a trap.
Dad: Oh, because of the hook?
Elliot: Yeah, and I think that's Rapunzel's hair. I think Rapunzel is letting hair down with that, actually.
Dad: Wow. How does that make you feel?
Elliot: Daddy, potty. I gotta go potty.
---
VISUAL LITERACY ICEBREAKERS
Questions to ask your kids (or yourself) on a gallery visit to get the conversation flowing:
In response to an abstract painting: If this painting were making a noise, what would it sound like?
In response to a figurative sculpture: What do you think is happening around this person?
In response to any work: How does this make you feel?