Getting the Most From a Parent-Teacher Conference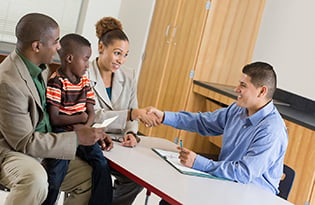 Parent-teacher conferences are the time to ask specific questions about your child's academic progress, but it's easy to get sidetracked in conversation. Don't let the time slip by without getting the information you want. Teachers generally control the agenda of a conference. They will typically give you answers to the following questions. If they don't, you will want to ask them.
1. What performance level is my child working at in the basic content areas?
2. Is my child working to his or her full academic potential?
3. What do you see as my child's educational strengths and weaknesses?
4. Does my child need any special help to succeed in the classroom, and can the school provide the needed help?
5. Do you have any recent achievement, intelligence or aptitude test scores for my child?
6. Is my child's behavior in the classroom satisfactory? If not, what needs to be improved?
7. What can I do at home to support my child's learning?
8. Do you see any academic or behavior problems that we need to discuss at another conference?
You definitely want to walk away knowing how your child is performing in the class and if there are any problems that need to be addressed. If there is a need for a more lengthy conference, you should try to schedule one at this time. You also need to know how the teacher wishes to be contacted when you have any future questions.
If there is time in the typical 15- to 20-minute conference, you may also find out about your child's participation in class discussions, the standardized tests that will be given during the school year and the time that should be spent on homework.
Remember, you will be working with this teacher all year. Be supportive and appreciative of all the hard work that the teacher puts in daily and let the teacher know you want to do what is necessary to help your child succeed in school.
Marge Eberts and Peggy Gisler are experienced teachers who have more than 60 publications to their credit.