Getting over Fear of the Unknown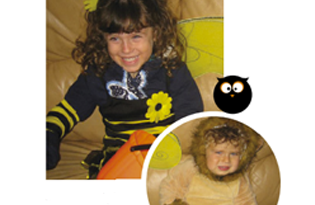 I think Sage and Brayden will be extra-ready for Halloween at the end of the month. Recently they experienced a frightfully fun weekend night, which left them with smiles and goose bumps on their arms.
It all started one Saturday night. Our family had just gotten back from going food shopping. When we got into the house, the lights wouldn't turn on. Neither would the TV. Not good. Red Sox-Yankees still had four innings to play, and on another channel football was going full-steam. Oh yeah, and the children's channels were not an option. The electricity was out for the entire area. What would we do? It was getting dark, so reading and playing games were out of the question. Just then Charisse (my smarter half) had a great idea: Let's tell spooky stories.
So with flashlights, everyone jumped on the bed. Sage started us off. Her story about a ghost tangling with the Big Bad Wolf made my hair stand on end. Sage was very proud of her storytelling. Soon she and Brayden were riveted by my wife's tale of a small town in trouble. They were stonecold silent during the climax. Brayden then insisted on taking his turn. I was surprised he understood what we were doing, but even more amazed that he came up with a story. It was about the letter "T" and stop signs, advanced stuff for a kid not yet 3.
Finally I talked about a giant running after Sage and Brayden. This exercise went on for about an hour. My two kids loved it. They listened, screamed, hid under the covers, laughed and generally decided they liked being afraid. This worked out so well no one even noticed the electricity was still off.
Finally it was time to hit the sack. Sage asked if we could make telling spooky stories a Saturday night staple. I originally didn't think this idea would have a ghost of a chance of being successful. But now I see I was just frightened by the unknown. A good lesson learned … just in time for Halloween.
Bruce Snyder is a longtime sportscaster who lives in Charlotte with his wife and two children.