Getting Outdoors with Toddlers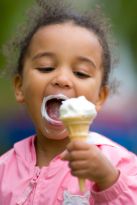 As the weather warms and families come out to play, moms and dads often wonder how they can keep their toddler busy outdoors while spending quality time together. There's no need to stock up on hundreds of dollars worth of toys or fancy games. Just a few strategic playthings powered by children and their imaginations are all parents need to get outdoors with their toddler.
"Unstructured play and simple games are really great ways to engage young children" says Robert Pasin, father of three and Chief Wagon Officer at Radio Flyer — makers of wagons and ride-on toys for children. "Parents seeking quality ways for them to be active should know you don't have to break the bank to have fun with your kids."
The play experts at Radio Flyer offer their top tips for parents to get outdoors with their toddler.
Blow Bubbles
Bubbles are a simple and timeless outdoor activity for children. Encourage kids to count the bubbles they pop as a fun way to work on counting skills. For a change of pace that will delight the little ones, let them blow the bubbles while mom and dad chase and pop them.
Cruise the Block
A favorite activity of the Pasin family is to take a nature "drive" around the neighborhood. The Sport Coupe from Radio Flyer lets kids have a stylish, retro car of their own. Toddlers can use their feet to move the car, or use the stow-away footrest and telescoping handle to let mom or dad push. Point out foliage and wildlife along the way and encourage toddlers to honk the horn and wave to the neighbors.
Flutterby
Organize a butterfly chase in the yard or at a nearby park. Take the opportunity to explain how butterflies were once caterpillars, show kids how to watch the delicate critters quietly, and try to get them to land on their outstretched fingers. Make sure to take the time to enjoy the flowers, trees and sunshine.
Three Wheels and Four Legs
"Many families, mine included, have an older child as well as a toddler," says Pasin. "Younger siblings don't like to be left behind, so it's important for families to find 'me too' activities."
A traditional older sibling activity is taking the family dog for a walk. Help toddlers keep up with their very own set of wheels, like My First Scooter from Radio Flyer. The three-wheeled scooter looks just like a big kids' ride but has an extra wide base with two wheels in front for stability. Fido will be happy he doesn't have to slow down for the kids and the little ones will be delighted to speed ahead.
Sprinkler Sprint
Set up the sprinkler in the yard, put on the swimsuits and run, run, run! Kids (and adults) of all ages love to cool off by running through sprinklers.
Go for a Ride
The perennially popular activity of riding bikes often excludes toddlers too little to ride along. The Grow and Go Bike by Radio Flyer has sturdy non-removable training wheels and looks just as cool as a big kid's bike. This bike grows with the child, eliminating the need to purchase an expensive new bike every year to keep up with growing bodies.
When it comes to getting outdoors with toddlers, the only limit is your imagination. Now get out there and play!
Courtesy of ARAcontent