Getting Out and About as a New Mom
How to maintain social interaction during the days of new parenthood.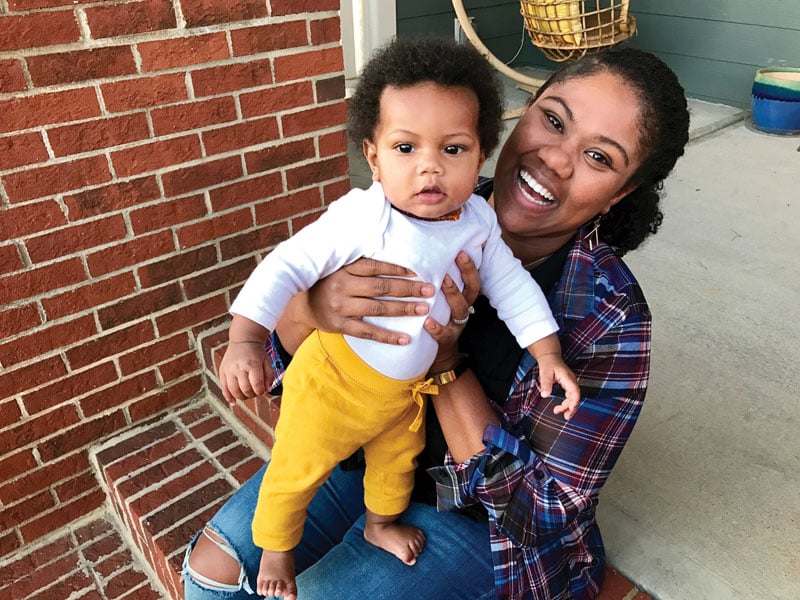 For new moms, feeling like you may never get a good night's sleep again or get a minute to yourself or with friends is common. But those feelings can also cause you to feel isolated and lonely, like no one you knew prior to having a baby understands what you are experiencing, feeling … living.
When Fametta Darling, 35, was pregnant with her son Euri, she did everything moms-to-be do. She attended her baby showers, she purchased diapers and readied the baby's room.
"I thought I had prepared myself. I found the place that I wanted to give birth. I chose a midwife. I also had a doula. No one talked about after birth. We are always trying to get ready for the birth itself," Darling says.
After Euri was born, Darling felt lonely. At the time, she was living in Atlanta and away from family. She didn't feel comfortable sharing her feelings of loneliness with her new friends, so she spent a lot of time alone and became isolated. She says, "It was a hard place."
Darling's experience is not unusual. Moms with new babies are under an enormous amount of physical and emotional strain. Dr. Rachel Thommen, an outpatient psychiatrist with Carolinas Healthcare's Behavioral Health-Davidson, has seen a greater need in the past few years for women-focused psychiatry related to what happens to women during and after pregnancy.
"During your pregnancy estrogen and progesterone levels rise. Right after the baby is born, there are sharp decreases in estrogen and progesterone. It starts hours after childbirth and plummets for a few days and then stabilizes to non-pregnancy levels," Thommen says. "That sharp decrease in hormone levels can cause mood swings, crying, weepiness, anxiety and poor sleep. That's typically what we call the baby blues or postpartum blues. This is coupled with a change in lifestyle, fatigue and physically recovering from delivery."
Mood swings can be attributed to shifting hormones, but new-parent isolation can cause loneliness to set in. Thommen recommends that moms stay socially connected, attend support groups, exercise and rest. But this takes effort, advanced planning and willingness to ask for help.
Connect With Other Moms
After the excitement of a new baby wears off, friends may not drop by as often, and new moms may be unsure how to find another community — or may not have the energy, says Mellissa Willette, a registered nurse with Baby + Co.
"Isolation is not new, but as we have moved from our village mentality, this is a more common thing," she says.
After Kiara Harlow, 28, who lives in the Biddleville neighborhood in west Charlotte, had her son Remington, she met other new moms through postnatal classes like infant massage, mommy-and-me yoga and stroller exercises at Freedom Park. During the six-week infant massage class, they were given the opportunity to talk about sleep schedules and other new-parent concerns.
"It was a really good way to assuage fear and get out with moms who were going through the same things I was," she says. "It was building a new life and community with people similarly connected."
Willette facilitates a new moms group once a week for two hours at Baby + Co. for any new mom and her baby, including those who gave birth at Baby + Co or delivered elsewhere. Willette structures the group based on what the moms want and need, which is mostly an outlet to be with other moms who are experiencing life with an infant.
A typical session includes an hour talking about what it's like to be a new mom. The second hour may include guest speakers that discuss topics ranging from financial issues to baby's developmental milestones or essential oils.
Participants also are given guidance to help them meet other moms and practice some of their new skills, such as nursing in public or grocery shopping with a baby in tow.
Take Time for Yourself
Finding time to take a shower, take a walk or see a friend falls to the bottom of the list when moms are overwhelmed with their new lifestyle, but it's important to have those few minutes each day.
Harlow learned she had to let go of the idea that she could do it all. She created a list of simple chores posted on a chalkboard in the kitchen. If family members or friends wanted to help, they could sweep, fold laundry or clean the bathroom. This meant Harlow could have a moment to herself.
"As a new mom, it is hard to say, 'yes, I need someone to come and do my laundry.' That's one of those tasks that can really wear you down when you are a new mom," Harlow says.
Darling's experience during those first few months after her son Euri was born changed the direction of her life. She moved to the university area in Charlotte and trained to become a holistic doula. She now supports women during pregnancy and labor, and provides help during the transition time after the baby is born.
As a postpartum doula, Darling helps families by doing whatever is needed in their home. She may prepare meals, watch their other children, do light housekeeping and meal planning, or take the baby so that mom can shower or nap.
"The most important things is allowing that mom the time to connect to her baby and getting used to having this new person. But she [the mom] is a person and needs to have that connection to herself," Darling says.
---
How to Find the Time
• Have a jar that you fill with easy chores (empty trash, empty dishwasher, etc.) that visitors can choose when they come into the house before they hold the baby.
• Find a mother's helper and schedule them twice a week to help out with the baby while you nap.
• Ask for help and arrange time to exercise, meet-up with friends or spend time with your spouse. You deserve it!
---
Making New Social Connections
Reach out to one of these organizations for more information about classes, programs and meet-ups to socially connect with other Charlotte-area moms.
Charlotte Mommies. Create a profile on Charlotte Mommies to join an online community of moms who live near you.
MICIT Baby and Kids. Join the Facebook group for an online social community where moms ask and answer each other's questions.
Baby + Co. Take a new mom class. They are open to all – stay-at-home, working, breast- or bottle-feeding — moms.
Fit4Mom. Meet other moms and their children and get fit at the same time. Classes offered in Dilworth, Lake Norman and Waxhaw.
Meetup. Find a mom or dads group that fits your interest or geographic area in Charlotte.
Mom Tribe App. Recently launched in Charlotte and Charleston, the Mom Tribe app helps moms connect based on location and interests.
---
Don't Forget the Dads
Dads also can feel isolation after welcoming a baby to the family. Dad+Bags+Brews hosted by Baby + Co. connects new and experienced dads who can mingle over a pint and a game of cornhole each month at a local brewery. Babies and moms are welcome to come too. Check out the Charlotte Dads Group for more events.
---
Vanessa Infanzon is a freelance writer in Charlotte. Follow her on Facebook, Twitter and Instagram @morethanVMI.