Getting Fit as a Family
Making time to be active together as a family increases health benefits and opportunities for communication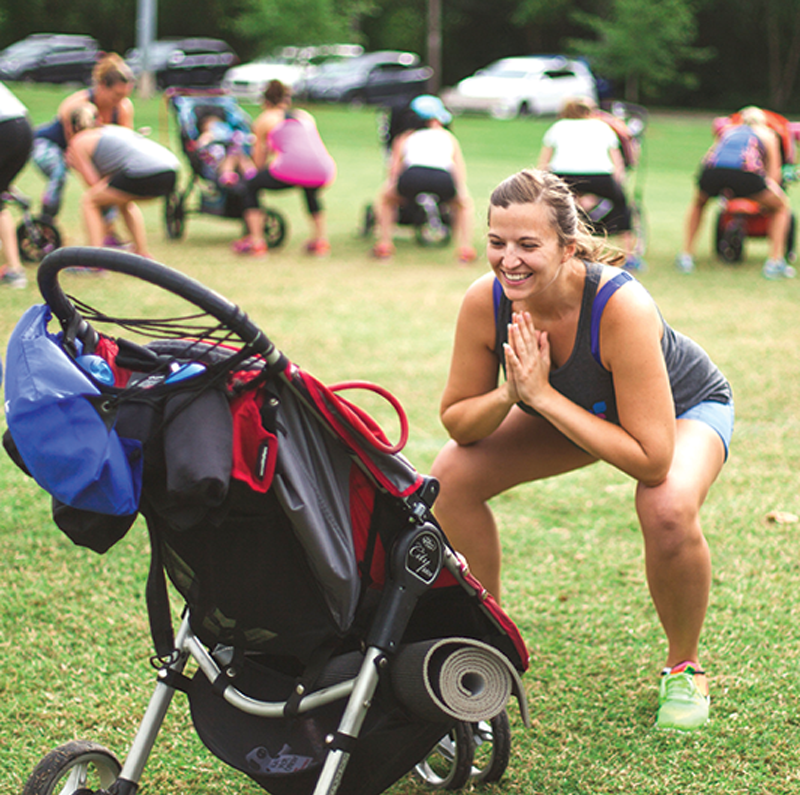 Working out and being active has become a Brammer family tradition. It was sparked by a karate class the family took more than 10 years ago. The class offered a two-for-two registration special: after two enrollments, two more people could participate for free. The deal was so good that Vickie Brammer, her husband Frank Brammer and their children Hannah, then 6, and Michael, then 4, joined. The Brammers found that they enjoyed karate and being active together. The kids continued classes with Hannah earning her first- and second-degree black belt, and Michael a brown belt.
The family has continued its journey of active togetherness, embarking on new adventures and excelling in individual athletic pursuits. The family enjoys taking walks around the block throwing the football, Spartan training at their local YMCA and preparing for 5K races together. It brings the family closer together and makes everyone happier, Vickie Brammer says.
"We have a lot of time together. We also find our kids are in better moods when they are active," she says. "One of the biggest things they [kids] see is that fitness is important to me and my husband, and it's a lifelong thing."
Strolling Into Fitness
So what is the best age to start getting active as a family? It's never too early to set a good example, says Colleen Varnum, owner of Fit4Mom Lake Norman, which offers Stroller Strides, Body Back and Our Village classes. The classes help moms in all stages of motherhood attain their fitness goals and stay active. Babies and toddlers are welcome, and strollers are often incorporated into the 60-minute workouts that include cardio, strength training and core restoration.
"After almost every class you'll see the kids playing 'mommy's workout,' doing wall sits, planks and push-ups. It's the cutest thing, but it is the message that showing your kids that exercise can be fun," Varnum says. In addition to Fit4Mom Lake Norman, Fit4Mom Charlotte hosts classes in Dilworth, south Charlotte and Waxhaw.
Get Creative at Home
If your family is ready to start adding physical fitness to its list of things to do, get creativite says Len Saunders, a best-selling author and motivational speaker in the fight against childhood obesity. Saunders has taught physical education for more than 35 years. He says getting healthy at an early age is an investment.
He suggests starting with something fun and easily accessible like a scavenger hunt where family members scout out clues and perform activities like jumping jacks or jogging in place. Children may also enjoy creating and running an indoor or outdoor obstacle course. Ever tried commercial-sizing? During a commercial or computer break, get up and move or dance. When parents are moving more, kids catch on.
"For kids, the truth is, they don't have to go to the gym for hours and hours. Be creative and come up with things without taking away things they like," Saunders says. "Kids are really very observant and the number one people they watch most is their parents."
Take a Class
Sometimes embarking on a new activity is the perfect way to spark fitness inspiration. Kerri Flanigan is owner and trainer of AIR Charlotte, an aerial fitness program. The high-flying classes focus on strength, flexibility, core and cardio training using silk hammocks to climb, hang, swing and fly. AIR Charlotte offers classes for children ages 8 to 12, plus teen classes and Mom+Me Workshops for moms and kids ages 5 to 7. It's a great way for younger kids to learn their strengths and interests, as well as put to use listening skills.
"It's super hands-on so parent and child work to get in and out of poses as well as play games," Flanigan says. "Active listening skills come into play when the instructor has to demonstrate an exercise."
The Morrison YMCA recently redesigned a circuit-training class to be family friendly. Children age 8 and older get a workout jumping rope, running steps, holding planks, doing cardio stations and taking on other challenges. The Brace Family YMCA also offers Spartan training to gear up families for races. Even if you don't belong to a YMCA, most facilities have outdoor tracks or playgrounds that are open to the public without a membership. Call your nearby YMCA branch to see what is available.
Go Outside and Play
Integrating activity into your day is simple — just get outside and start moving, says Kathy Stieglitz, a certified personal trainer and owner of Get Serious! Personal Training.
"I encourage families to walk the dog together or take a bike ride in the neighborhood," Stieglitz says. "Maybe a friendly game of hoops in the driveway. Encourage the kids to join you."
When the family workout needs a new place to feel the burn, the U.S. National Whitewater Center offers more than 30 outdoor activities, including whitewater rafting, flat-water kayaking, stand-up paddle boarding, mountain biking, climbing, ropes courses, zip lines and trails.
"Each is designed to provide families the opportunity to get outside and experience something new or something they can enjoy together," says Eric Osterhus, communications and brand manager for the U.S. National Whitewater Center.
Charlotte's extensive greenway system also offers great opportunities for biking, riding scooters, jogging and walking without the interference of traffic.
Opportunity for Communication
Elevated heart rate, better sleep, burning calories and the adrenaline rush that comes with working up a sweat are tangible benefits of regular athletic activity, but family activity together also creates time to talk and connect. There also are many opportunities for encouragement and respect during a parent/teen workout.
"I encourage parents to exercise with their teens so the parent can see what their child is capable of doing and I like for the child to see what mom and dad can do," Stieglitz says.
The first step in being active together as a family is making it a priority. "You can only realize the family bond and health-boosting benefits if you're consistent with your training time together. You need to prioritize it and plan other activities around it — not instead of it," Stieglitz says.
---
Courtney McLaughlin is a mother to a 12-year old daughter and freelance writer who is grateful to her family for teaching her the importance of being active from an early age.