Get to Know the Neighborhoods of South Charlotte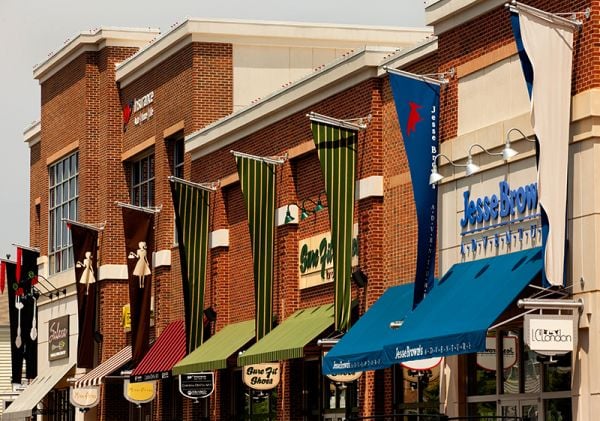 Ballantyne Village
Ballantyne
An upscale neighborhood in south Charlotte, Ballantyne offers the suburban star treatment. Close to the South Carolina border, the Ballantyne area was once North Carolina governor Cameron Morrison's family hunting preserve. In the 1990s, Johnny Harris expanded that property to a 2,000-acre spread that Smoky Bissell eventually bought for development. The award-winning Ballantyne Country Club and great shopping and spa options represent the Ballantyne lifestyle. The residents of the numerous planned residential communities have made this popular neighborhood a highly coveted location, and education opportunities abound with Hawk Ridge Elementary, one of eight K-5 public schools in the area; and independent British American School for grades K-8. Shop, eat or see a movie at Stonecrest Shopping Center, and check out nearby Hall Family Farm for hayrides, strawberry picking and pumpkin patch activities.

Matthews
Located between Charlotte and Monroe, Matthews is an ideal family suburb. A small town with easy access to the big city, Matthews offers a variety of neighborhoods at different price points making it an appealing place to settle down and plant family roots. In the beautiful downtown, stock up on weekly provisions at Matthews Community Farmers' Market. Learn about the early days of Matthews at the Matthews Heritage Museum. Spend an afternoon enjoying nature on foot or bike along the Four-Mile Creek Greenway that connects Squirrel Lake Park downtown Matthews. At night, catch a family-friendly performance at Matthews Playhouse. Catch a free concert at Stumptown Park, home to the Summer Concert and Movie Series, and Matthews Alive!, one of the Southeast's largest Labor Day weekend festivals.

Pineville
Tucked in Southern Mecklenburg County, Pineville is a quaint town on the outer edge of the Interstate 485 loop. Living here, residents have the best of both worlds – small town charm with the benefits of a larger city at their doorsteps, including Carolinas Medical Center Pineville and Carolina Place Mall. Birthplace of President James K. Polk, discover the significant events of his presidency at James K. Polk State Historic Site on the land once owned by Polk's parents. On a nice day, go to Jack Hughes Memorial Park for sporting activities that include batting cages, a playground and walking trails. During summer months, enjoy free entertainment at the Rockin' and Reelin' Summer Concert and Movie Series at Pineville Lake Park.

Indian Trail
Located in Union County, Indian Trail is a rapidly growing suburb, but preserves a community atmosphere. Being just off Interstate 485 puts this town within easy range of uptown Charlotte, but allows residents to have the feeling of living in the country. Take in the great outdoors and enjoy community events including movie nights, festivals and musical concerts at Crossing Paths Park. Catch the Charlotte Checkers, the professional minor league ice hockey team, playing a preseason game at Extreme Ice Center. The facility features two ice rinks with programs for youth adult hockey, figure skating, broomball and curling.

Waxhaw
Tranquil wooded areas, gently rolling hills, and a small town atmosphere have newcomers flocking to Waxhaw. Visit the downtown area for shopping, dining, or a stroll across the iconic Overhead Pedestrian Bridge. Close by, sk8 Park is the perfect place for skateboard enthusiasts. Lots of family fun can be found at David G. Barnes Children's Park. Hang out on the beach, go horseback riding, rent a cabin, or throw out a fishing line at Cane Creek Park. And Andrew Jackson State Park combines history, art, and community activities while honoring the seventh President of the United States.

Fort Mill
Just over the border, Fort Mill is situated along the Interstate 77 corridor in the most northern part of South Carolina. This community is one of the fastest growing in the state. A strong sense of community, high quality of life, and good schools are big contributing factors to the population boom. Hike across a swinging bridge, through the woods or around the lake at Anne Springs Close Greenway. Relax and play at Steele Street Park, covered picnic areas and a water spray park are family favorites.

Main Street Children's Museum, Rock Hill. Photo credit: chmuseums.org
Rock Hill
Rock Hill is the largest city in York County, South Carolina. This growing community has responsibly implemented a family-oriented expansion. There are top-notch city parks, plenty of nice residential neighborhoods, and a top performing school system. Attend a fast-paced track cycling race at the world-class Giordana Velodrome where kids age 5 and older can participate in youth programs. Main Street Children's Museum is a whimsical place where kids' imaginations run wild and their creativity kicks into high gear. Have a picnic at Glencarin Gardens, a beautiful park with an inviting atmosphere, and where many of the annual 10-day Come-See-Me Festival activities happen. Meander along several miles of wooded trails along the scenic river at River Park. Don't miss a concert under the stars at Old Town Amphitheater.

Lake Wylie/Tega Cay
There is something wonderful about living on a beautiful lake. Started in 1970's as a weekend getaway from Charlotte, Lake Wylie and Tega Cay have blossomed into full-time residential communities. The city of Tega Cay parks department has incorporated 11 parks throughout the town with ample water and land activities suitable for families. The most popular one is Windjammer Park. Catch a live musical concert at Runde Park during summer months. Rent a pontoon boat, kayaks, or jet skis at Lake Wylie Boat Rentals.