Get to Know the Neighborhoods of East Charlotte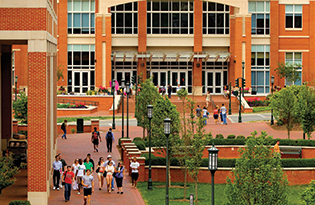 Concord/Kannapolis
Many historic homes line South Union Street in downtown Concord, which located northeast of Charlotte in Cabarrus County. Historically a thriving textile town, downtown Concord now is a pedestrian-friendly historic shopping and business district. Outside of downtown Concord there are newly developed suburbs. The N.C. Research Campus and Village Park anchor downtown Kannapolis. Surrounding neighborhoods are a mix of revitalized mill houses, older subdivisions and rural areas with new subdivisions. Kannapolis City Schools serves just over 5,000 students. Concord is also home to mega-mall Concord Mills and the Charlotte Motor Speedway where NASCAR reigns supreme.
Harrisburg
About a 30-minute commute to uptown Charlotte, Harrisburg maintains a close-knit feel with many town gatherings happening at the Harrisburg Town Center. The small-town vibe and local businesses make it a great place for families to put down roots. Harrisburg also hosts one of the largest 4th of July parades in the region bringing in more than 50,000 visitors.
Mint Hill
Mint Hill is a residential suburb east of the city, near the Cabarrus County line. This all-American town hosts numerous community events and festivals throughout the year. Practice your swing on the softball field or one of the tennis courts at Wilgrove Park. Stop by Carl J. McEwen Historical Village to tour historical buildings and learn about county history.
Monroe
Due east of Charlotte, is the city of Monroe and Union County. Agriculture and aerospace are two of the most notable business bases for the area. Union County. It's an easier pace of life here, with easy proximity to Charlotte thanks to the I-485 outer beltway. Virtually any type of housing is available from sprawling plantations to urban residential and historic renovations in downtown Monroe. The area is loaded with parks, including Cane Creek Park, a water-based recreation facility with 1,050 acres of land surrounding a 350-acre lake.
University City
Anchored by vibrant students enrolled at the University of North Carolina at Charlotte, home to the 49ers, the University area is an eclectic neighborhood just northeast of uptown. In the 1960s, visionaries saw past the area's farm fields and imagined a great university, complete with research facilities and places to live, work and play. Today, with its many hospitals and hotels, shops, restaurants, bars and attractions, such as the UNC Charlotte Botanical Gardens, that vision is now the reality. The city's greenway system also boasts one of the best trails in this area of the city, the Mallard Creek Greenway.