Get to Know the Neighborhoods of Central Charlotte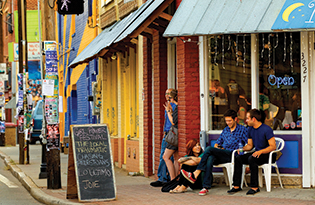 COTSWOLD
A mix of 1950s-style ranches and split-level homes on larger lots mix with new construction in Cotswold. Cotswold Village Shops, Charlotte's first suburban mall, houses retail stores to meet most family's needs, including Harris Teeter grocery store, Rite Aid pharmacy, Toys and Co. toy store, Marshall's and Petco. Many of Charlotte's best private schools are clustered within five miles of Cotswold communities, and Cotswold IB Elementary and Randolph IB Middle schools are a draw for many families. Nearby Charlotte Swim and Racquet Club is known for its swim and dive teams, plus tennis clubs. Eddie's Place is the frequent breakfast and dinner spot for families, and Mezzanotte has delicious brick-oven pizzas.
DILWORTH
Originally the brainchild of Edward Dilworth Latta in the 1890s, Dilworth was Charlotte's first streetcar suburb. To attract residents and businesses to the area, Latta built a 90-acre park. The community was constructed as a grid that centered on East Boulevard, welcoming families to the turn-of-the-century, colonial revival and Craftsman-style architecture. Today, a new generation has discovered the charm and neighborliness of Dilworth, with its tree-lined streets, front porches and family-friendly sidewalks. It continues to thrive as one of the city's most historic and popular neighborhoods, and Freedom Park is a year-round hub for outdoor activity and festivals. Tucked in the trees by the park is Charlotte Nature Museum, a kid-friendly favorite with educational exhibits and story times. Latta Park has a small splash pad, playground and shaded walking trails and is adjacent to Dilworth Elementary School. Shops and restaurants add to the area's appeal, especially on East Boulevard, which has earned a reputation as being Charlotte's boutique row.
MYERS PARK
Queens University anchors this well-established, prestigous neighborhood that boasts homes built in the Colonial-Revival style of the 1920s, as well as modern renovations. It's also where you find some of the city's oldest trees that line Queens Road. Historically, it was the home of many of the textile, banking, and utility leaders responsible for developing the city and surrounding area into a major American manufacturing region in the early twentieth century. Myers Park High School, one of the city's largest high schools, is also located in the art of the community. Scoot over to Selwyn Drive for a mix of casual and upscale dining and specialty shops, including the kid-favorite Mellow Mushroom. Or venture to Park Road Shopping Center, an outdoor shopping center, where you can find everything from a movie theater to locally owned hardware store and a whole lot inbetween.
NODA
A century ago, the area surrounding the intersection of North Davidson and 36th streets thrived as the site of the city's first textile mill village. Decades later, artists transformed the dilapidated village into Charlotte's premier arts community. This urban neighborhood continues to undergo a complex transition — the lifestyle of bohemian artists remains present, but it is now joined by trendy restaurants and breweries, renovated mill houses, hip lofts and alluring bungalow homes retrofitted for the standards of modern living. NoDa is a short jaunt from uptown, and is known for its gallery crawls, and music performances at beloved local music venue, the Neighborhood Theatre. Be sure to try the tacos at Cabo Fish Taco and have pizza with the family at Revolution.
PLAZA MIDWOOD
Starting out as a 1920s streetcar suburb, Plaza Midwood was once home to some of the city's earliest society elite (like the Van Landinghams) and its very first country club. Now this quirky area just northeast of uptown is famed for cozy streets lined with unique bungalows, eclectic boutiques and distinct dining. The area's trolley line once ran along present-day Central Avenue, which still touts the neighborhood's hip retail and dining district. Bike under the green canopy of trees Rita's Italian Ice or play shuffleboard before brunch at Zada Janes. For those who desire a peek into the past, the Van Landingham Estate still holds court at 2010 The Plaza and is now a popular event destination. Midwood Park, in the center of the neighborhood, is an easy walk for families and is complete with playground, small amphiteatre, tennis and basketball courts, and a ball fields in the center of the neighborhood.
SOUTH END
With thriving textile factories up through the turn of the century, this community south of uptown boasted Charlotte's first railroad line. Ease of access added to its growth spurt, as houses sprouted up along the tracks. Following a decline in the 1970s, as families relocated to outer suburbs, South End underwent a dramatic revitalization in the 1990s. Since then, the neighborhood has re-emerged as one of the city's fastest-growing, most interesting areas. Established art galleries, such as the Charlotte Art League, draw the area's eccentric crowds, while staple eateries, such as Common Market, set the neighborhood abuzz. Refurbished warehouses house flourishing retail hubs, and the LYNX light rail line connects it to other areas with ease, and The Atherton Market hosts local farmers at its weekly farmers market.
SOUTHPARK
Once the site of a 3,000-acre farm, south Charlotte's chic SouthPark neighborhood sharply contrasts any previous rural sentiment. SouthPark mall and its wide range of high-end retailers is the centerpiece of the many businesses, restaurants and residential areas that conjure an uptown feel. Symphony Park, adjacent to the mall, hosts summer POPS concerts. The minivillages of Piedmont Row and Phillips Place provide a multitude of upscale dining, shopping and living opportunities for those seeking quality, style and a little exclusivity. Enjoy a matinee movie with the kids at Phillips Place Stadium 10. The large homes of the Foxcroft and gated Morrocroft communities cater to families who enjoy privacy with a bonus of easy access to all the area's amenities.
UPTOWN
Charlotte's uptown, also called "center city," consists of four numbered wards. In the last decade, people have flocked to the heart of the city to live, dine and play thanks to revitalization efforts. The skyline's newer additions include the NASCAR Hall of Fame and the cloud-scraping Duke Energy Center, which lights up in various colors to celebrate holidays and events. First Ward is home to high- and low-rise housing, as well as ImaginOn, Time Warner Cable Arena, and the Levine Museum of the New South. The EpiCentre, a massive entertainment complex, spices up Second Ward. Third Ward is home to many museums, including the Mint Museum, Bechtler Museum of Modern Art and Harvey B. Gantt Center for African-American Arts + Culture. And finally, Fourth Ward blends restored Victorian homes, urban apartments and parks, and is where you find the family-favorite science center Discovery Place.