Get to Know the Bluegrass State: Five Unforgettable Kentucky Experiences
From mountains and lakes to the world's longest known cave system, Kentucky is a modern explorer's dream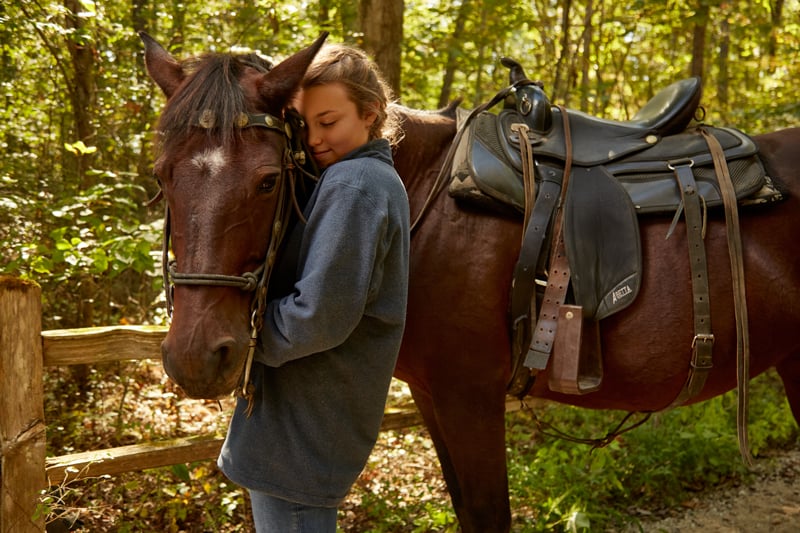 Kentucky is justly famous for bourbon and horses—but there's so much more to this Southeastern gem. Landscapes across the state beckon the adventurous: Hills for hiking, biking, and horseback riding. Gorges that attract world-class climbers. Lakes and rivers where you can go fishing and reel in lifelong memories. Whatever your skill level and whatever type of adventure appeals to you and your family, you'll find it in Kentucky. Here are five can't-miss activities to inspire your next trip across the Appalachian Mountains.
1. Look for a moonbow at the "Niagara of the South."
The scenic waterfalls of Kentucky define "majestic," and Cumberland Falls is the grandest of them all. Measuring approximately 68 feet tall and 125 feet wide, this impressive waterfall has earned its nickname: "the Niagara of the South." Every second, 3,600 cubic feet of water spill over the sandstone edge, making a formidable roar and a breathtaking sight, day or night. Visit during a full moon and try to catch a glimpse of the moonbow; this extremely rare phenomenon, formed by the mist in the air from the falls, is one of only two naturally occurring moonbows in the world.
The falls are located within Cumberland Falls State Resort Park, which is home to the historic Dupont Lodge, featuring solid hemlock beams, knotty pine paneling, and massive stone fireplaces. Choose from guest rooms, cabins, or cottages—all offer beautiful views and a full range of amenities.
2. Go underground at the world's longest known cave system.
More than 400 miles of vast chambers and winding rock tunnels at Mammoth Cave National Park have been explored so far, and countless more remain untouched. Descend into the earth and discover the rare beauty and mystery of the cave for yourself on a guided tour, ranging from 30 minutes to five hours. Above ground, nature lovers will enjoy hiking, horseback riding, ziplining, and rock climbing, plus canoeing and kayaking on the Green and Nolin rivers, which flow through the park.
Nearby Cave City, a certified Kentucky Trail Town, is a great base for adventure. Explore more caves, race go-karts, play miniature golf, or go back in time at Dinosaur World. Don't forget to bring home a souvenir: Rocks, minerals, and locally made quilts and crafts make great gifts and keepsakes.
3. Cross Natural Bridge in one of the southeast's outdoor meccas.
With stunning geological features and sweeping views, Natural Bridge is one of the most popular outdoor destinations in not only Kentucky but the entire region. Both Natural Bridge State Resort Park and its namesake rock formation sit within a popular climbing and outdoor destination known as the Red River Gorge Geologic Area. Formed over millions of years, Natural Bridge's sandstone arch stretches more than 75 feet long and 65 feet high.
To take your experience over the top—literally—explore Natural Bridge by sky lift. You'll soar through forest canopies to the top of the ridge and get unparalleled views of the arch. Afterward, follow a short trail from the sky lift drop-off to the base of Natural Bridge: You can walk across and take in the landmark's unique setting.
4. Saddle up in America's most renowned horse country.
Home to both the Horse Capital of the World (Lexington) and the Saddlebred Capital of the World (Shelbyville), Kentucky is synonymous with horses. Visit legendary horse racing tracks, try out a wide variety of equestrian activities, and tour postcard-perfect farms, where the most magnificent horses in the world graze on the state's famous bluegrass. Even if you don't come to Kentucky a horse lover, you'll almost certainly leave as one. Here's how:
Go horseback riding. Kentucky's many horseback riding trails and tours let you saddle up and wind down as you explore the state's scenic wonders. Stables around the state offer the opportunity to ride one of their horses, or bring your own. Explore mountainous trails in Eastern Kentucky, Daniel Boone National Forest or Mammoth Cave National Park. Canter along central Kentucky's gently rolling terrain, or wade along one of Western Kentucky's great lakes. (And don't worry—there are options for first-timers and seasoned riders.)
Tour a horse farm. Get up close with a mare and foal, an up-and-coming champion, or a Derby racer retired to stud. Centered around Lexington but found all around the state, Kentucky's famed horse farms are responsible for breeding, raising, and training the horses that dominate the racetrack. Several farms in Shelby County welcome visitors to their barns to get to know saddlebreds. (To see these high-stepping champions in the show ring, plan to attend the World Championship Horse Show or check the calendar for other equestrian events throughout the year.)
Take your horse camping. Explore Kentucky's hundreds of miles of horse trails and escape life's demands with your own horse. There are more than a dozen horse campgrounds in Kentucky, from the Land Between the Lakes National Recreation Area to Mammoth Cave National Park to Daniel Boone National Forest. From primitive campgrounds to full-service facilities complete with corrals, horse barns, and other amenities, there are plenty of options for happy trails.
5. Captain a floating villa in the houseboat capital of the world.
If you can drive a car, you can captain a houseboat (a marina pilot will show you the ropes before you leave the dock). The boats, which can feel like floating hotel rooms, are available to rent from numerous marinas on lakes across the state. Southern Kentucky's Lake Cumberland is known as the "Houseboating Capital of the World" and has the country's largest fleet of rental houseboats. Count the heads that need beds and find the best vessel for your trip, from a tiny houseboat for two to a 90-foot boat fit for your entire extended family. These floating villas often come complete with amenities like air conditioning, full kitchens, TVs, private staterooms, and even Jacuzzis and water slides.
For travel tips, complete itineraries, and more unmissable destinations, visit the Kentucky Tourism website.