Get to Know: Tera Black of the Charlotte Checkers
She's the only female COO in the American Hockey League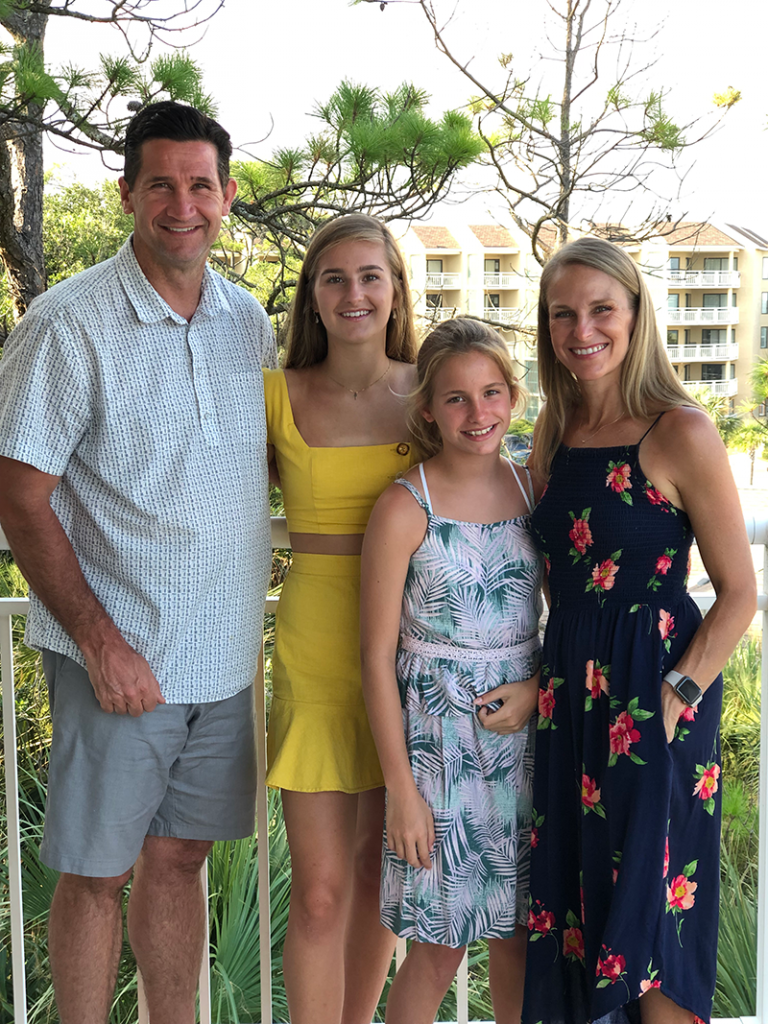 Tera Black is the chief operating officer for the Charlotte Checkers, overseeing the day-to-day business operations and overall marketing strategy. She is the only female COO in the American Hockey League. She and her husband Jamie Black are parents to Hayley, 16, and Cassidy, 11, and two cats Rick and Cheeto.
Where in Charlotte do you live? We live in Myers Park. We moved to Charlotte from San Diego 13 years ago. I grew up in the Sierra Nevada Mountains in Northern California and consider myself very luck to have lived in beautiful areas all my life.
Tell us about your job. What do you like and what are the challenges? I have the wonderful responsibility of overseeing a group of very talented people. I like just about everything about my job, but like with any job, there are parts that are hard. I have been lucky to do something I love for my entire career, so there isn't any room to complain. We do a lot of work in the Charlotte community, which is also incredibly rewarding.
What's the hardest part of juggling family life and work life? With the virtual world in which we live in, I am never really off the clock. I answer emails as soon as they come in, no matter what time of day. I don't feel like that is really fair to my family sometimes and I am trying to get better at balancing all the things that require my time. Conversely, having the ability to work virtually has allowed me immense freedom to be at my kids' school functions. I just try to be very thoughtful about how much time goes where and when.
Best advice ever received:The best advice I've ever received was from my grandfather. He said to me at a very young age "Can't never did, never could, never would." I have so much respect for people who try and try again, never believing they can't do something. I also have a quote on my office wall from Marlene Dietrich that says "There is a gigantic difference between earning a great deal of money and being rich." Choosing to do something you love, versus choosing to do something because just because of the money, are two completely different things. And some good personal advice from my awesome mother-in-law: "Always buy good shoes and a good mattress, because you'll be in one or the other your entire life."
Proudest parenting moment? We have spent the better part of our parenting lives arming our kids with tools to be good people and to make good decisions. Watching them organically use those tools is incredibly rewarding. I'm also very proud of my girls' work ethics in school and sports. It would be so easy to swoop in and help them through their challenges, but somehow we have managed to get out of the way so they can manage on their own. They are very confident, hardworking, kind people.
What is your favorite thing about raising a family in Charlotte? Having moved from Southern California, I am constantly reminded of the true meaning of southern hospitality and grace. The tribe of families that we are lucky enough to call friends has been there for us time and time again, helping us through difficult times, crazy schedules and random health issues. Charlotte also offers lovely seasons, an intensely collaborative business community, a litany of different professional sports, a fantastic arts scene, history and golf.
Lowest parenting moment: My patience is tested when I am tired. I know this about myself. It is at those times that I have been known to have a complete adult meltdown around something as inconsequential as the cleanliness of a room in our house or a lost personal possession. After those episodes, I feel really bad for not managing my emotions and I always apologize to whomever happened to cross my path at the time.
What can't live without? I cannot live without fresh air, outdoor activities, exercise, yoga, access to animals and animal advocacy, quality time with my family and laughter!
What is your favorite Instagram account? I have three: @womenirl,
@thedodo, and @natgeo.
Last book read: "Essentialism" by Greg McKeown.
What inspires you? Talented people, superior work ethic, interesting, funny and creative people and stories of perseverance.
Michele Huggins is the editor of Charlotte Parent magazine.