Get to Know: Sarah Baucom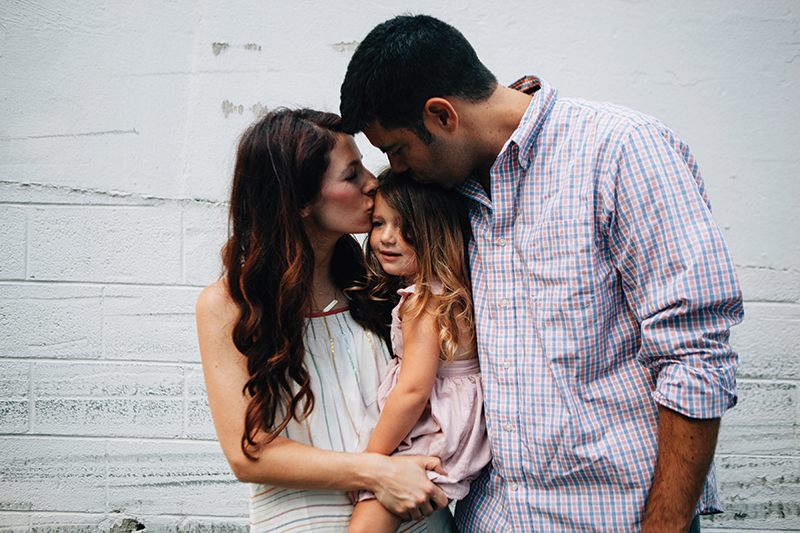 Sarah Baucom is co-founder of Girl Tribe Co., Pink Toast and Girl Tribe Pop Up. She is married to Ryan Baucom, and together they have one daughter, Eliza, who is 3.
---
How long have you lived in Charlotte and where did you grow up?
I am a native Charlottean (unicorn status). I grew up in Sedgefield and am so proud of it!
Tell us about your job. What do you like most about it? What are the challenges?
My business partner and I have three businesses, but I mostly focus on Girl Tribe Co, a women-positive graphic T-shirt company; and Girl Tribe Pop Up, a traveling pop-up shop filled with women-owned businesses.
I love that I literally created the job of my dreams. The challenge is that I literally created the job of my dreams. Every day is like a choose-your-own adventure. Some days you celebrate, and others you go to yoga, then drink some wine and hope it's the next day already.
What's the hardest part of juggling family life and work life?
I don't feel a juggle. My family is my favorite everything but my job is my everything, too. It has been a journey to get there, but I'm proud to work. It's a choice and a privilege to have a family and a job.
What is your favorite thing about raising a family in Charlotte?
I love all of the things to do in Charlotte. In my day, we hung out at Stonecrest trying to order food by walking through the Wendy's drive-thru. These days, we bike to breakfast, we go to Knights games, ImaginOn is an incredible resource and so is our thriving performing arts community.
Best advice ever received:
My mom's advice: You can't force people to like you.
Proudest parenting moment:
Every day when I pick up Eliza and see her cheery, smiley face is the best moment. I'm so proud of this incredible kid. It takes my breath away to see her so happy to see me — it's the best feeling in the world, and I know it's a vision that I will cherish forever.
Lowest parenting moment:
The times when Eliza asks me to pay attention, and I realize I'm not in the moment. We've tried really hard to put phones and communication down after school and before bed. Sometimes we slip, and toddlers are not ones to forget.
Name three things you can't live without:
1. Iced coffee
2. My support system
3. Sirius XM
Name your favorite Instagram account: @girltribeco
Last book read: "Big Magic: Creative Living Beyond Fear" by Elizabeth Gilbert.
What inspires you?
Entrepreneurs are endlessly inspiring. My parents are both small business owners and I am so grateful that I grew up watching and learning from their experiences. My mom had a toy store for 20 years and I was sort of a shop kid working at the store, doing inventory, ringing up customers, answering phones and learning how to merchandise. It was a really fun time and I learned so much from watching her start a business from "what should I call this store" to "I'm going to produce my own line of toys" to opening in a mall and thriving — all while raising five children! She's a total rock star. My dad owns a commercial construction firm, and I have worked with him for 10 years. He is full of the best advice and his knowledge for construction blows me away. Final answer: entrepreneurs, especially the ones closest to me, including my parents Greg and Sybil Keach.
Join Charlotte Parent + Girl Tribe Co. at our newest pop up shop just for moms on Friday, September 29 at Lenny Boy Brewing Co. Click here for more details!