Get to Know: Natalie Ridley
Meet the producer of "Charlotte Today" on NBC Charlotte and mom to two boys.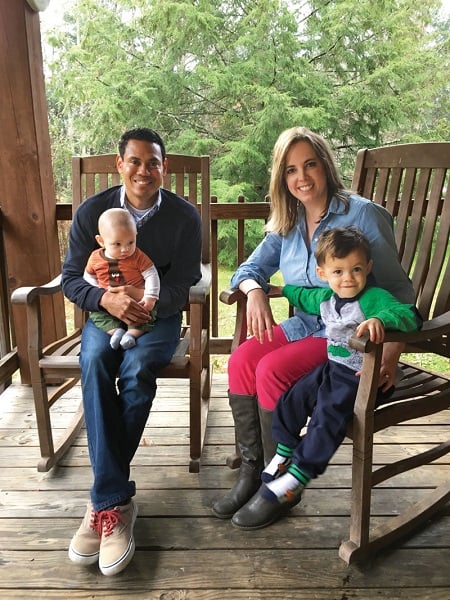 Meet Natalie Ridley, producer for "Charlotte Today" on NBC Charlotte. She and her husband Kevin Ridley have two children, Miles Ridley, 2, and Jamison Ridley, 6 months.
How long have you lived in Charlotte, and where did you grow up?
We live in southeast Charlotte and have lived here 10 years. I grew up in northeast Ohio.
Tell us about your job. What do you like most about it? What are the challenges?
I produce the lifestyle show "Charlotte Today" on NBC Charlotte. It's a live show, five days a week. I'm in charge of writing the show, researching and booking guests, and making sure the show gets on and off the air without a hitch. I love meeting interesting people, learning about things happening in and around Charlotte, and the team of co-workers who help make TV magic each day. That said, there is constant pressure and deadlines. Guests cancel, the network airs special reports, and it's a constant juggle to schedule interesting, informative segments.
What's the hardest part of juggling family life and work life?
The pressure to do it all. I want to be the best employee and team player, but my family is my priority. I think moms always feel this pressure to do everything and to do it well. We're trying to keep the house clean, feed our families, tackle piles of laundry, spend quality time with our husband and kids, and still kick butt at work. I am learning how to prioritize what's really important and let some things go (a little dust on the mantle never hurts, right?)
Best advice ever received?
Give yourself grace. As moms we struggle to be perfect, but we have to give ourselves a break and remember what's really important — making our families feel loved.
What is your favorite thing about raising a family in Charlotte?
There is so much to do and experience, it can be overwhelming. There are many programs and places to take my kids during the week, but I'm working. I love that many activities are free, and it doesn't take much research to find something fun to experience as a family any given weekend.
Proudest parenting moment?
When my oldest son cares for his younger brother. A few months ago, my oldest son told me to go sit on the other side of the couch because he wanted to sit by his brother and read to him. He got out "The Very Hungry Caterpillar." He just made up a few things to say on each page, but it was the sweetest thing ever. When I had my second baby, I worried about how my oldest would react and that he wouldn't want to have anything to do with him, so that moment when he showed he wanted to do something special with him really made me feel proud.
Lowest parenting moment?
The time I messed up school picture day. Our daycare sent out several reminders for spring pictures. I, however, had it in my head that picture day was a completely different day. So on actual picture day, I sent my son to school in a Lowe's employee T-shirt (his dad works there). He didn't smile in the picture, so it turned out to be a sad, pathetic picture. I was so embarrassed, I didn't even want to pick up the picture packet. Big parenting fail that day, but it's fun to laugh about now.
What are three things you can't live without?
A hot shower. Sometimes it's the only 10 minutes I get to myself in an entire day.
My phone. Sad, but true. It holds my family calendar, to-do list, grocery list, doctors information — everything!
My family. My boys give me joy, my husband makes me laugh, and my extended family and in-laws help keep me sane.
Favorite Instagram Account?
@dannypellegrino. Hilarious memes and movie clips that he relates to real-life scenerios.
Last book read?
"Overwhelmed: How to Work, Love and Play When no one has the Time" by Brigid Schulte. It's given me perspective on why moms are always stressed and the intense pressure we put on ourselves.
What inspires you?
Other moms really inspire me. Moms who are honest and open about what it's like to parent, and the struggles they go through. I love that I'm part of a huge pool of women who can give advice and support any time I need it.
My boss inspires me. She's raised five kids in the high-pressure, deadline-driven world of TV and news. I ask her for advice all the time. I've learned some really valuable personal and career lessons from her.
My husband inspires me. He pushes me to go for things that I consider impossible or a challenge. He inspires me to be a better person because he is such a kind-hearted human who goes above and beyond for others.