Get to Know: Jenny Gandhi
A glimpse at the life of the owner of Pearl. Dentistry Reimagined.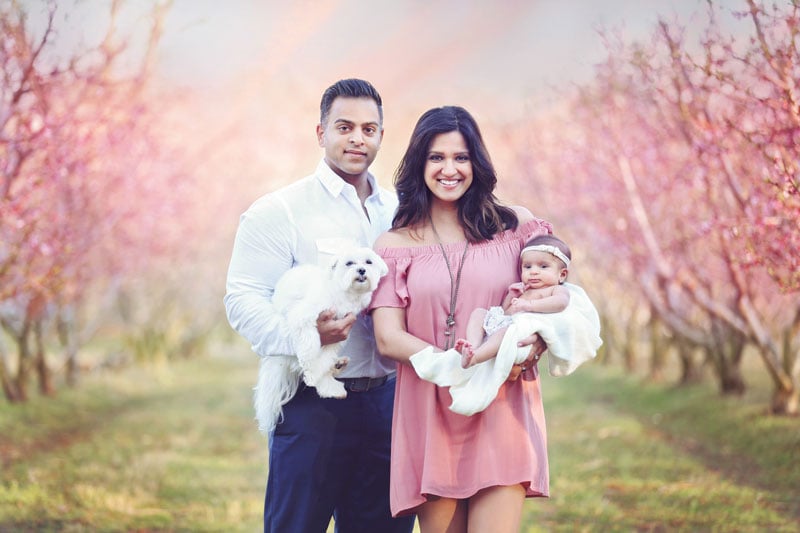 Meet Jenny Gandhi. Gandhi is the founder and lead dentist at Pearl Dentistry Reimagined. She and her husband Kinjal Parikh have a daughter Zoie, who is 4 months old, and dog Alfie, who is 5 years old.
---
Where in Charlotte do you live? How long have you lived in Charlotte? Where did you grow up?
We moved to the Queen City 4 years ago and lived in Uptown during our newlywed/pre-baby life. We recently moved to Dilworth and love the combination of the neighborhood feel with city life. I grew up in Savannah, Georgia.
Tell us about your job. What's it like? What do you like most about it? What are the challenges?
I am the founder and lead dentist at Pearl. Dentistry Reimagined. I started Pearl. two years ago with the idea of transforming the trip to the dentist from dreadful, to an experience that was luxurious, relaxing, and—believe it or not—fun. We just expanded to a second uptown location! Our days are long and intense—we start at 7am and work non-stop into the evening to fit the lifestyle of our uptown clientele. Our clients are the best part about what we do. We meet amazing people and are part of transforming their smiles which is so rewarding.
Treating clients all day, running two practices, and being a new mom can be overwhelming. Luckily, I am surrounded by an amazing team (aka "the pearlgirls"). They truly are what makes pearl. special, more than our swanky and high-tech office.
At the same time, leading a team is the most challenging part of being a business owner. The old saying "you are only as strong as your weakest link" is so true!
What's the hardest part of juggling family life and work life?
Time! There are never enough hours in the day, no matter what I try to do. You can't be in two places at once—so there are always going to be things you miss that you will wish you didn't – whether its at work or at home. In these first few months, I've had to learn to let go a little bit. I can't attend every meeting, go to every conference, walk my dog every morning, read to my baby every night, or have a fun dinner with my husband every evening. You learn how to prioritize and what quality time really means.
Best advice ever received?
Don't doubt yourself, because you are capable of anything you set your mind to.
Proudest parenting moment?
Bringing Zoie home for the first time. I quickly realized that life as I knew it had completely and drastically changed. It was a great yet almost surreal feeling because when you look at your baby, you know that she is the most important thing in your life from this point forward.
Lowest parenting moment?
Getting frustrated and angry at Zoie for not sleeping much, forgetting how helpless she is as a newborn. The sleep deprivation the first month is insane, and you have to find a way to keep yourself mentally grounded and calm.
What is your favorite thing about raising a family in Charlotte?
This city! Big enough to feel like you're in a metropolis, but small enough to know all of your neighbors! Its perfect for young families. The restaurants and the parks are the perfect backdrop for creating great memories. CLT is a big transplant city, so you meet interesting people from all over the country.
What are three things you can't live without?
* Chocolate. To say I have a sweet tooth is an understatement
* My family. My amazing husband, dog, and Baby Zoie!
* Pearlgirls. My team/work family who impress me more and more each day
What is your favorite Instagram account?
@pearlCLT and @clubfetch. club fetch is the amazing doggy daycare that our pup Alfie goes to—a big part of keeping our fur baby happy. And they post pics and videos all day!
Last book read?
First Comes Love by Emily Giffin.
What inspires you?
* The supermoms who do everything for their children.
* The female entrepreneurs who are able to expand their professional goals without losing sight of being a mother and wife.
* My husband who pushes me to embrace obstacles rather than give in to them.
Name of husband/partner, and children's names and ages?
Kinjal Parikh – husband
Zoie – daughter (born 1/2017 – will be 4 months old in May)
Alfie – dog (age 5; maltese)