Get to Know: Jasmine Jordan of Jordan Brand
She talks about making the GOAT a 'Pop Pop' and balancing work with family life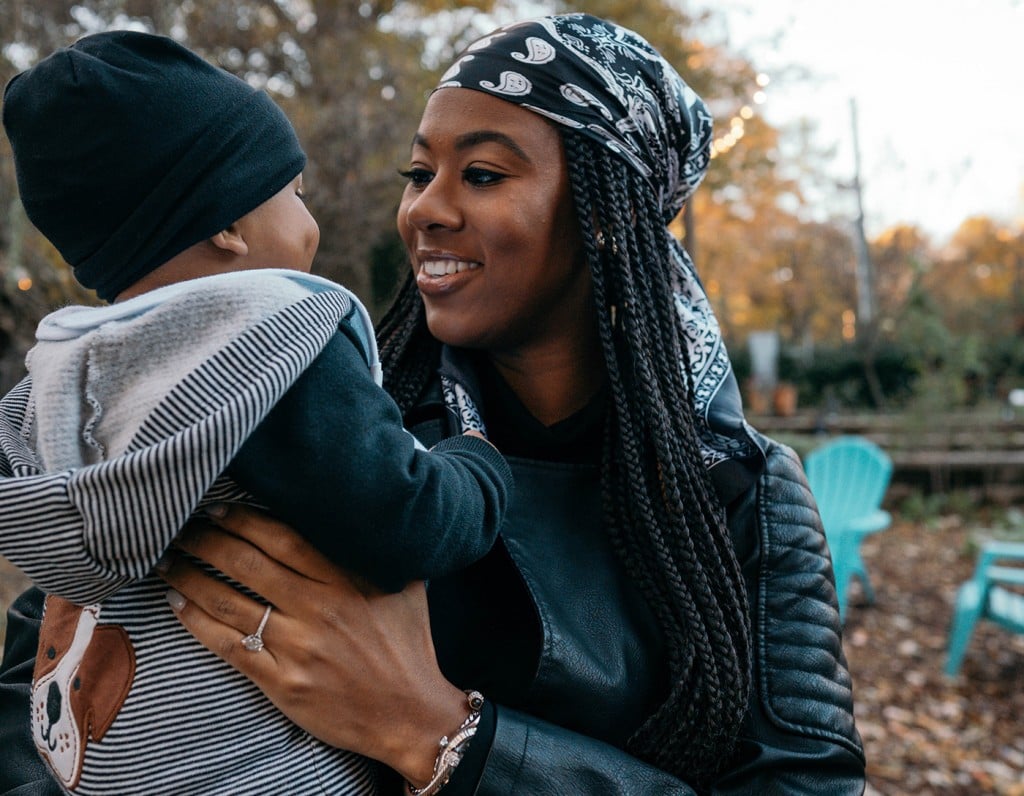 The 27-year-old daughter of Michael Jordan handles sports marketing for Jordan Brand, where she manages Hornets' players and works to build the brand's women's division. She's also engaged to Rakeem Christmas, who played for the Pacers from 2015-2017, and mom to 1-year-old son Rakeem. We caught up with Jasmine to chat about parenting a toddler during quarantine, FaceTime with "Pop Pop," and when we might see her compete on American Ninja Warrior.
What's the hardest part about running a business and juggling a toddler? Balance. It's just hard. If it were easy, everyone would do it (laughs). You have to make sure everybody gets just enough of you and you get enough for yourself.
What's been your favorite part about parenting a toddler? It's really just watching those moments when things click in his mind. I love seeing that excitement when I open a book or turn on the TV, and he understands how those things work. It's something as simple as knowing the high chair is for food.
What's been the most challenging part­­–particularly during this quarantine? Adjusting to that new norm, wearing mask, or really anything we haven't done. It's hard not to go to the playground and see friends, but we're embracing it and making it fun. My fiancé and I do a hackey sack toss. We'll pass it back and forth six feet apart and have conversations that way. It makes people get creative. I've always loved cooking, but now I'm making so many new things for my son to try.
What's your favorite restaurant in Charlotte? Fahrenheit. I love the rooftop atmosphere, and the spicy tuna nachos are so good. I used to live in the building, so I would always go up there all the time.
What's your favorite adult beverage? I love wine. If you take it a step further, I'm a Moscow mule kinda girl. But me and wine go hand in hand (laughs).
What's your guiltiest pleasure? Watching reality shows, but the competitive ones. I want to go on the The Floor is Lava or American Ninja Warrior. It's on my bucket list. It's an itch I need to scratch.
What's your favorite way to spend an unscheduled day with your son in Charlotte? I can't wait to take him to the aquarium or the zoo. We have a French bulldog named Montana, and he rides him every day. We also have Mila, a pom-yorkie mix. I can tell my son loves animals.
What's your favorite way to spend a night without your son in Charlotte? My fiancé and I love to go on walks and immerse ourselves in the city. When we lived in uptown, we'd do Taste of Charlotte. He's not from here, so he's more like a tourist. But I feel like I'm still learning the city, also.
What's your biggest parenting fail to date? Getting my son out of my bed and into his crib. We co-sleep. He was a breast-fed baby so it worked. But I know it's a mommy no-no. Even my dad's like, 'He's too big. He needs his own bed.' And he is (laughs). He's 14 months but already wearing 3T.
What is your dad like as a grandfather? He's the best. He's such a softy. As soon as he laid eyes on (Rakeem), he was silly putty. They're gonna be best buds. They Facetime every day. He calls him Grandpop; he says Pop Pop.
What's the best parenting advice you ever got? Go with the flow, and understand there's not a book on it. You're never ready. No matter what, if your child knows he's loved, that's all that matters.
The Tough Stuff:
Chocolate or cheese? Cheese. I'm allergic to chocolate.
Coffee or tea? Tea.
Beer or wine? Wine.
Sports or fashion? Sports, but that's hard.
Reality or fiction? Reality.
Comedy or drama? Comedy. I love to laugh.
More sleep or more free time? More sleep.
Daniel Tiger or Daniel Stowe Botanical Garden? Daniel Tiger.
Baby Shark or Baby Einstein? Baby Shark.
Facebook or Instagram? Instagram.