Get to Know: Greg Zanitsch of The Fig Tree
Greg Zanitsch shares his take on raising three children in Charlotte while also owning and operating one of Charlotte's most respected restaurants.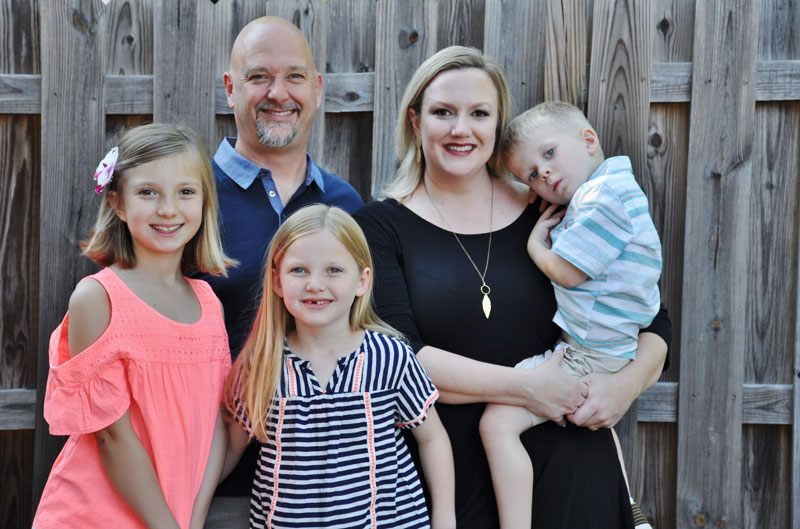 Greg Zanitsch is co-owner of The Fig Tree with his wife Sara Zanitsch. The couple has three children: Ava, 9; Grace, 6; and Wolfgang, 4.
Where in Charlotte do you live? How long have you lived in Charlotte? Where did you grow up?
We live in the Elizabeth neighborhood. This July will mark 13 years in Charlotte for Sara and I. The Fig Tree Restaurant has been open since March 2005 (we went through an almost year-long renovation before opening). I grew up in Pittsburgh. Weather is easily one reason we like it here.
Tell us about your job. What's it like? What do you like most about it? What are the challenges?
Owning a restaurant is a lot like raising a child. We have been very fortunate to keep employees. Many of them have been with us since before we had children. Before we had kids, we used to have employees who didn't have family in town over on holidays. Having the responsibility of children made Sara and I much better at our jobs.
What's the hardest part of juggling family life and work life?
It changes all of the time. Before the kids were school-aged, we would get to spend all mornings with them until we left for work. Now that they are in school, that changes things. Sara and I both work weekends, but always try to find time to have family days. It is a little easier since we own the restaurant and have trustworthy employees. We always try to keep that in mind when writing schedules for employees who have children. We want to make sure they have time off for their children's milestones, too.
Best advice ever received:
I don't know if it was advice, but I have heard words to live by. My wife is the youngest of 8 children. She and all of her siblings say that their father never remembered them doing anything bad. He would handle the situation, discipline them if needed and forget that it happened. They all remember that fondly about him.
Proudest parenting moment?
I don't know that I have a single event. But, things that have made me proud are teaching them things like riding a bike and tying shoes, or seeing them lose teeth. They are all expected, but still very special. I also enjoy seeing the three kids develop their own personality and interests, and trying to foster those interests.
Lowest parenting moment?
Our oldest daughter, Ava, severed her finger on a catamaran in Puerto Rico a couple Thanksgivings ago. It is definitely one of the scariest moments I've had as a parent. Waiting to get back to shore and to meet the ambulance took forever. Then, there was the language barrier. Fortunately, we went to a specialist as soon as we got back to Charlotte and all is fine now, but that was one of my most frightening moments.
What is your favorite thing about raising a family in Charlotte?
Definitely the weather, and the proximity to the beach and mountains. Also, seeing the city grow over the past 13 years has been exciting.
What are three things you can't live without?
Horse racing, skiing and fishing are all things that I would set an alarm for to get out of bed (I'm not a morning person). And a nice bottle of wine, of course.
What is your favorite Instagram account?
I got rid of Instagram and went "off the grid," as we say, after trying it for three months. I've never been on Facebook, but will probably have to when the kids are a little older.
Last book read?
Eva The Enchanted Ball Fairy. Riveting!
What inspires you?
For both work and children, I think the change of seasons gets me excited. New ingredients and menus, new toys and activities, always something to look forward to!
Name of husband/partner, and children's names and ages:
Wife: Sara Zanitsch
Children: Ava 8, Grace 6, Wolfgang 3