Get to Know: Foster Village Charlotte's Sloan Crawford and Jamie Doyle
'We have room in our home, room in our hearts, and I think we should do this.'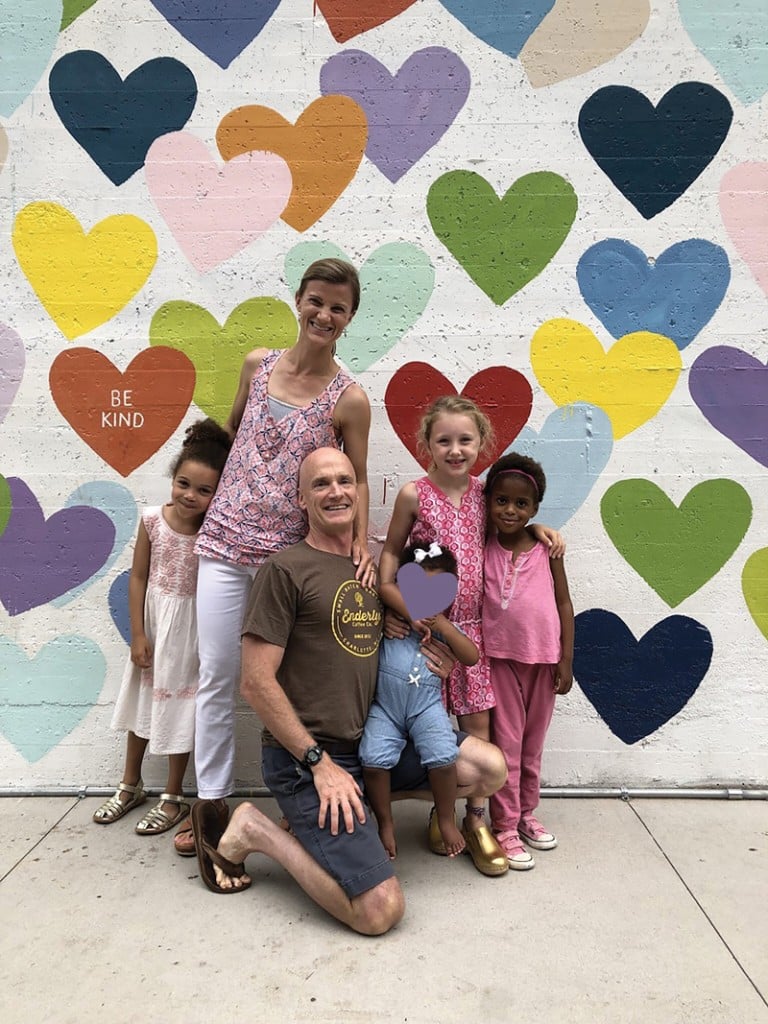 Sloan Crawford and her husband Jamie Doyle entered the world of foster care after adopting their three girls: Ruth, 7, Rose, 6, and Nora, 4. Their first placement in 2016 grew their family to five girls under the age of four. Today, they're foster parents to Baby Z, 21 months, and they provide frequent respite care to a number of children in the city's foster system. Their experience inspired Sloan to co-found Foster Village Charlotte, a non-profit organization that provides support to other foster families in the community.
What drew you to the foster system?
Jamie: The decision to foster came from Sloan's desire to serve. She said, 'We have room in our home, room in our hearts, and I think we should do this.'
Why is there a need for a foster village in Charlotte?
Sloan: Right now, Mecklenburg County has approximately 600 kids in foster care, and about 80 licensed foster homes, so there's a big gap. There's a 30- to 50- percent drop-out rate (from foster parents) after the first year, and the number one reason is isolation and lack of support. So we created Foster Village Charlotte to create fellowship and support, to say, 'We see you, and you're not alone.'
How did you build your network?
Sloan: I got together with three other foster moms—Molly Zalewski, Becky Santoro, and Traci Prillaman. None of us knew each other three years ago—we met on Facebook as struggling foster parents, waving a white flag, trying to support ourselves. We soft-launched Foster Village Charlotte three years ago and fully incorporated in July 2018.
What's an immediate need you see with new foster families?
Sloan: When children come into foster care, it's usually an emergency situation and they're removed without any planning, so they'll have no clothes, diapers, car seats … anything. So we started a Welcome Pack program. We'll show up within 24 hours on their doorstep with new jammies, books, age-appropriate toys, and a hygiene pack.
What else does Foster Village
Charlotte do?
Jamie: Welcome packs are really only about 10 percent of it. The rest is connecting parents with counseling, helping children deal with trauma, helping them get specialized medical service. We have a resource center (located at 4919 Monroe Rd.) where we host our family gatherings and educational training. We house in-season welcome packs there, and we have four storage units across Charlotte that house larger items like cribs or car seats.
What is your greatest hope for each child you foster?
Sloan: The number one question we get is, 'How can you give a child back?' Yeah, it sucks, but the whole point is to fall in love with a child, because every child deserves to be loved and cared for. Then you maintain a healthy relationship when they go back to the bio(logical) parents—that's the hope.
How can people get involved?
Sloan: You don't have to be a foster parent to support and stabilize a family taking care of a child in crisis. There are lots of opportunities—Girl Scout troops bake cookies for us for our welcome packs, we have volunteer babysitters, people who donate freezer meals—there's lots of ways to contribute. We hold events throughout the year, too. Last summer we had our one-year birthday celebration at NoDa Brewing Company, and $1 from each draft beer sold went to our Welcome Pack program.
Visit fostervillagecharlotte.org or facebook.com/fostervillagecharlotte for more information and ways to get involved.