Get ManCave For Any Man In Your Life This Holiday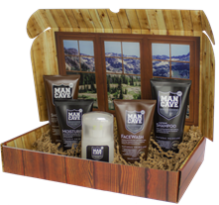 I recently came in contact with a line of male grooming products I'm totally digging. Obviously, I have not used the products myself, but I tried them out for my husband, and I wholeheartedly approve.
The ManCave recipe can be summarized with a start of natural active ingredients, followed up with 12 essential oils, and each product is completed with a signature key ingredient ranging from caffeine, panthenol, shea butter, borage oil and cedarwood. From the wife's perspective, YUMMY.   Below is my husband, Jon's, review.
Caffeine Shampoo – seems great. My hair feels less greasy at the end of the day, compared with whatever I was using, and I think it has a bit more body, which is great for me because my hair is so thin. It seems a little easier to keep to the side.
Face Wash – the pores in my nose have shrunk! I was just looking at my nose this morning and thinking how I don't see all those little black heads anymore clogging up the pores in my nose. They are probably still there, but it seems like it's drastically reduced. I think I've only had my face seem a bit dry (after the shower) once. If I used soap to wash my face, it would probably be dry and flaky every time.
Moisturiser (face lotion) – I'm not typically big on this, but I've been using it and like it. As I said above, the face wash doesn't dry out like soap, but this helps things a bit more, and it smells kinda like after shave, so I think of it that way.
Cedarwood ShowerGel – I have not tried this one yet. I forgot to put it in the shower.
Deodorant – This is probably my least favorite of the bunch. It's a gel you squeeze out and roll to apply, so it's wet for a minute and I don't want to put a shirt until it dries. It's aluminum free (designed to block the pores from sweating). The website describes it as a deodorant and not antiperspirant, which seems accurate. When I got to bed, there's a hint of body odor, but not bad. I have not exercised with this, so I don't know how well it really holds up. In progress…
Overall, I have really enjoyed the ManCave products!  For more information or to order your own ManCave products, click here.
Thanks for reading!  Whitley (and Jon!)