Get Going on a Greenway
Enjoy the fresh air, sunshine and joys of spring on a local greenway.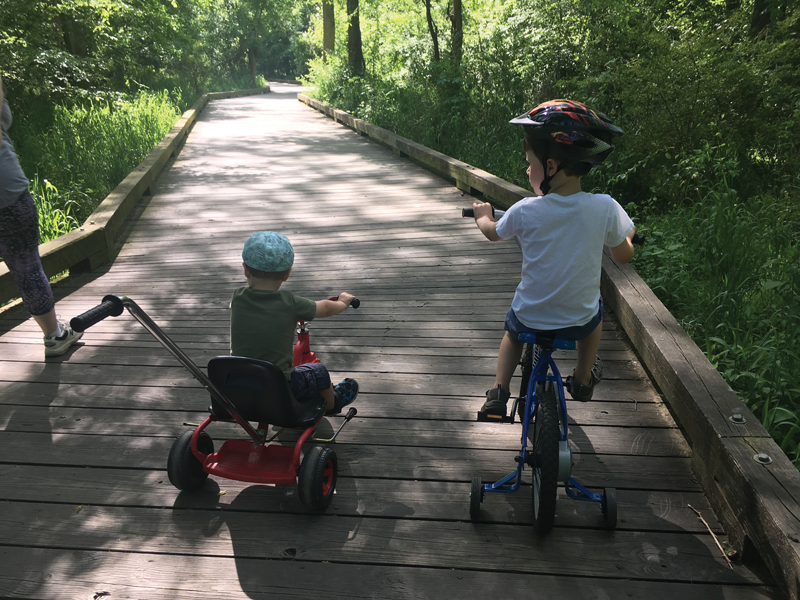 Mecklenburg County's public greenways connect people and places, and provide access to the great outdoors. Warm temperatures and longer days invite bird watchers, running groups and young training-wheel cyclists to shake off the winter chill. According to Mecklenburg County's website, "Greenways promote water quality, help reduce the impacts of flooding and provide wildlife habitat. Greenway trails provide recreation, transportation, fitness and economic benefits for all to enjoy."
There are more than 50 miles of existing greenways with more active projects in the works. A list of existing greenways and planned greenways can be found on Mecklenburg County's website.
One planned greenway connects Huntingtowne Farms Park to Interstate 485. Huntingtowne Farms Park offers a playground, basketball and tennis courts, and community garden. The existing greenway in that location is part of the Little Sugar Creek Greenway and offers approximately .75 miles more of paved path. The trail is currently under construction, which includes both renovation and extension.
As exciting as future greenways are, existing greenways deserve attention now, Four Mile Creek, Lower McAlpine Creek and McMullen Creek Greenways — which connect — plus three popular sections of Little Sugar Creek Greenway are family favorites.
South Charlotte Greenways
Four Mile Creek, Lower McAlpine Creek and McMullen Creek Greenways feature almost 6 miles of connecting paved, gravel and boardwalk paths. Parking can be found on Bevington Place, Johnston Road and Pineville-Matthews Road. Also off Bevington Place are the Shops at Piper Glen, which include Trader Joe's, Starbucks and Great Harvest Bread Company.
Bailie Kopco, mom to Anders, 4, and Blake, 2, says she loves how Four Mile Creek Greenway quickly takes residents from a suburban setting into a wooded natural area.
"It is very peaceful and a great place to take my two young children," Kopco says.
Four Mile Creek Greenway in Matthews connects downtown Matthews with Squirrel Lake Park. Squirrel Lake Park offers a pond, parking, picnic shelters and a playground. The asphalt and boardwalk path totals approximately 2.25 miles, and there are stretches that are adorned with sculptures and artwork of residents that live along the path. It is ideal for strollers, wheelchairs, bikes and in-line skates.
Little Sugar Creek Greenway
Little Sugar Creek Greenway includes portions that are still in development stages, but existing paths already have a lot to offer. The 1-mile stretch from Cordelia Park to 12th Street connects Cordelia Park and Alexander Street Park. Cordelia Park features the newly revitalized basketball court, outdoor swimming pool, sprayground, picnic shelters and play equipment. Alexander Street Park has soccer fields, outdoor shelters, basketball and tennis courts, and play equipment.
The East 7th Street to Morehead Street section of the Little Sugar Creek Greenway is 1.3 miles long and is popular with commuters. It is good for bicycling, in-line skating, pushing a stroller or riding a scooter. The path connects Central Piedmont Community College, Elizabeth Park, Thompson Park and Carolinas Medical Center. It also offers great views of the uptown skyline and passes by Metropolitan, which houses Trader Joe's, Marshall's, Zoe's Kitchen, Vivace and other retail stores and restaurants.
Little Sugar Creek Greenway between Morehead Street and Brandywine Road is a popular choice for Charlotte families. If walking from Morehead Street, continuing on Brandywine Road, the greenway passes by Discovery Place Nature and Freedom Park and ends at Park Road Shopping Center. Freedom Park features sports fields and courts, a lake, an amphitheater, playgrounds, outdoor shelters and a pavilion.
"I love how it connects places my kids and I love like Metropolitan, Freedom Park, the Nature Museum, and all the restaurants on East Boulevard," says Kelly Davis, mom to Elliot, 5, and Coralyn, 3. "There's enough to do to keep kids busy for an entire day."
Charlotte Rail Trail
The Charlotte Rail Trail provides 3.5 miles of urban trail that connects the neighborhoods of Sedgefield, Southside Park, Brookhill, Dilworth, Wilmore, South End and uptown Charlotte.
The wide, concrete walkway connects from 12th Street to the northern section of Little Sugar Creek Greenway and Alexander Park. The section alongside the Blue Line follows a path of unique destinations, including restaurants, breweries and museums. Make a pit-stop in the NASCAR Hall of Fame, the Harvey B. Gantt Center for African-American Arts + Culture or 7th Street Public Market. Children enjoy dropping in at ImaginOn Library, Jeni's Splendid Ice Creams and First Ward Park.
Find Instagram-worthy magic carpet murals on the trail at 301 S. College Street, behind One Wells Fargo and the Hilton Charlotte Center City, another beside the building at 2151 Hawkins Street, and across the tracks from Atherton Market. The last mural lies at 2833 Griffith St., north of New Bern station.
Carolina Thread Trail
The Carolina Thread Trail connects greenways, trails and blueways — a water trail that is developed with launch points and points of interest for canoeing, paddleboarding and kayaking — in 15 counties and two states, and includes more than 260 miles of public trails and 170 miles of blueway. Some of Mecklenburg County's greenways include sections of the Carolina Thread Trail.
According to the Carolina Thread Trail website, One popular local blueway is the Mountain Island Lake Section of the Catawba River Blueway. Four boat launches can be found along its course, and two of which are located in Latta Plantation's Nature Preserve. The Latta Plantation Nature Preserve offers family fun, including but not limited to events, the Carolina Raptor Center and Historic Latta Plantation.
Another great spot for families is the Harold B. McEachern Greenway, a section of Carolina Thread Trail, which connects to the 4-mile Downtown Greenway Loop in Concord. This trail offers a series of Lifetrail exercise stations, covered picnic tables and access to a playground in McGee Park. Just over one mile of Bakers Creek Greenway and 8th Street Greenway that connect near Bakers Creek Park are marked as Carolina Thread Trail. The trail runs alongside Village Park, a wonderful family destination in Kannapolis. Village Park features a playground, rotary train, events and splash pad.
Find an interactive map of the Carolina Thread Trail online at carolinathreadtrail.org.
Tiffany Wolff is the calendar editor for Charlotte Parent and a mom to two active boys.
Across the State Border
The Anne Springs Close Greenway lies just south of the border in Fort Mill, South Carolina. Though a greenway in name, it's more of a nature preserve. The hiking trails total 40 miles with more to come. In addition to hiking and biking trails, horseback riding and water activities, family events, camps and festivals take place at Anne Springs Close Greenway. There is a $5 daily usage fee.