Gender Neutral Decorating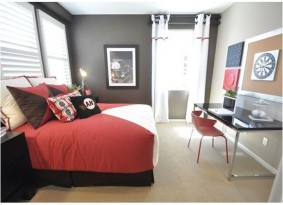 There was a time when boys and girls were placed in very constricting roles. Blue was for boys, pink was for girls, trucks were for boys and dolls were for girls.  Today roles are much more fluid and I'd like to congratulate this younger generation of parents who are being much more open minded. I encourage you to throw away previous limitations and promote gender neutral decorating and expression. Beautiful neutrals such as gray or tan provide an easy backdrop for adding pops of color which showcase your child's style and personality. 
Many parents find that decorating with a theme is easier, and that works well as long as the theme isn't gender specific. This bedroom, done in a timeless WInnie the Pooh theme is perfect for any child, whether boy or girl. As soon as your child is able to communicate their interests try and accomodate their personal style choices. If the child loves their room it is more likely they will take care of it and keep it clean. 
Another ideal situation for gender neutral decorating is when siblings are sharing a room. Avoiding the typical "girl" and "boy" colors can encourage brothers and sisters sharing the same bedroom. It helps them to build stronger relationships and develop a closer bond that would not occur if they were in separate rooms.
What do you think of gender neutral decorating? Please share in the comments below.
Barbara Green is the owner of Sensibly Chic Designs for Life and the host of Ask the Design Diva radio show. She believes you CAN have it all: kids, pets, and a beautiful home. Her showroom is located at
830 Lamar Avenue in Charlotte and is open by apointment only.  Call 704-608-9424 and mention Charlotte Parent Magazine to get a free 30 minute consultation.