Game Time Innovation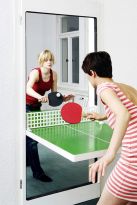 Are you looking for new ways to entertain your kids at home this summer? Do you struggle to keep them active on rainy days? I've got some innovative ideas that you and your kids will both enjoy. Ping Pong is a fast-paced and fun game, but not every home has room for one of those huge tables. Let me introduce you to the ping pong door!! As the name indicates, it is a functional door, but with the flip of a latch, it swivels down and becomes a ping pong table! How clever is that? 
An even simpler way of enjoying a game of ping pong without a full size table is this version that can be spread out on your kitchen island, or even on your picnic table in the backyard! It comes with a convenient carrying case so you can take it to the park or to a friend's house, too. Who knew ping pong could be so portable?

Another popular pastime is playing pool, but again, not everyone wants to devote an entire room to a pool table. I've had bachelors opt for a pool table instead of a dining table, but now I can offer a better option. This table has a removable top and pneumatic legs to easily raise and lower the height for dining or shooting pool. Now you really can have the best of both worlds!
Are there any other games you'd like to see converted like these? Let me know and I'll try to find them for you!
Barbara Green is the owner of Sensibly Chic Designs for Life and host of Ask the Design Diva radio show. She believes you CAN have it all: kids, pets, and a beautiful home. Visit her showroom located at 830 Lamar Avenue in Charlotte or give her a call at 704-608-9424.