Galleries A through Z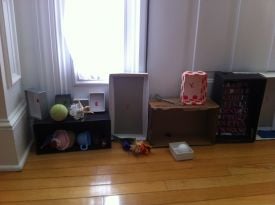 It's been a good month for crafts in our house, in part because it's been raining, but mostly because we just adopted a dog and Amelia won't leave the house unless it's absolutely necessary.
Turns out that even the dog gets tired of playing, so Amelia and her friend Izzy needed a non-canine diversion last weekend.
Enter the Alphabet Museum. I found this idea in Parents magazine a while ago, and I've been quietly hoarding boxes ever since. The idea is to assemble 26 boxes into a "museum." Label each box with a letter of the alphabet, and fill each "gallery" with items that start with its signature letter.  The museum planner in me was in awe of its simplicity and opportunity.
So, two eager curators got to work. The supplies were very simple:
26 boxes
alphabet stickers
anything and everything in your house
We used assorted boxes, an embarrassing majority of them from shoes. Really any sizes would work, as long as they are large enough to put things in.
Amelia and Izzy stuck a letter in each one and arranged them in a long, alphabetical line along our front hall.  I had imagined a high-rise arrangement, but the chief architects envisioned more of a museum train.
Once the museum was constructed, the hunt was on for items to fill it. Amelia and Izzy collected toys, spoons, office supplies, and pretty much any piece of household clutter that would fit in a shoebox, and proudly sorted them out by first letter sound.  They're learning letter sounds in preschool, so in this case I think the effort was more important than the outcome – some of the collection may have been displayed in the wrong gallery, but as long as it made sense to the girls, I didn't make any corrections.
For me, the most successful part of this project was that it gave the girls a new and playful way to practice letter sounds.  Amelia has always loved to sort and organize things, and this project let her infuse her sorting with some early reading skills.  A few other things we learned along the way:
• This is a great activity for more than one child to do together, since both can be gathering and placing items without any need to take turns. At least in my house, there is no end to clutter, and plenty of letters in the alphabet.
• Like a real museum, the collection is never complete. There's no clear "end" to the project, and some of the letter boxes were filled to overflowing before the girls lost interest. But remember – the longer it goes on, the more random items you will need to identify and return to their original locations when the museum closes and you want your floor back!  An alternative would be to pre-select items for sorting, but I think part of the fun was running around the house looking for the most elusive letter sounds.
• And of course, this is an incredibly adaptable activity. You could do a portable version using envelopes and pictures of objects cut from magazines. You could use numbers instead of letters and count items to put in each gallery. You could make an adjective museum (and then read Grover and the Everything in the Whole Wide World Museum), or even a person museum, with a gallery for everyone in the family.  Anything sortable would work, as long as the children can understand and freely interpret the criteria.
Hmmm…I'll bet we could make a family museum with a special gallery for the dog…in the new wing – oops, I mean the new paw…
I need more boxes.
Want more Mess?  visit Melanie's blog, or drop by her Etsy store, Made by Mommy!