Funky Family Fun at Mellow Mushroom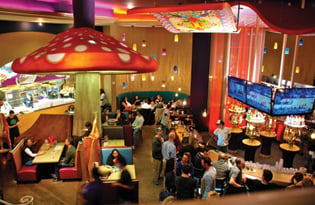 Three moms outnumbered by toddlers recently spent a lively Saturday night at the new Mellow Mushroom in Ballantyne. Popular just begins to describe this eclectic venue that's perfect for a family dinner, date night or girls' night out.
I called to make a reservation, but they only accept walk-in diners. I expected a wait but was shocked to discover it would be 2.5 hours! As our group debated between ordering from the takeout menu and choosing a different restaurant, the hostess squeezed us around a table upstairs.
Dinner began with a balloon artist creating balloon animals for each of our children, resulting in big smiles. After placing our orders, we played with the table-top touch-screen computer, found at only a few select tables. We could watch movie trailers, update Facebook or play a game. Computers in restaurant tables might take away from dinnertime conversation, but no one forced us to use it, and it did keep our little ones entertained while we waited for our food.
Mellow Mushroom offers a wide selection of appetizers, salads, pizzas, calzones and hoagies. Many dishes are vegetarian. They offer six kids' meals, but our group just shared cheese bread, Hawaiian pizza (ham and pineapple), barbecue chicken pizza, and a unique red-skin potato pizza that came loaded with potatoes, bacon, onions, cheese, chives, sour cream and a spicy ranch dressing.
The crust was thick and the toppings plentiful, so two slices were enough for each of the adults in our group. The dessert menu included Key lime pie, honey-cinnamon pretzels and several kinds of sundaes. The server suggested the chocolate-chip brownie sundae, but they were out of brownies so we ended up with yummy cookie sundaes instead.
Although Mellow Mushroom is a little pricier than your average pizza joint, the atmosphere and tastiness make it worth it.
THE CHOW DOWN
Mellow Mushroom – 14835 Ballantyne Village Way
Hours: Sunday through Thursday, 11 a.m.-11 p.m.; Friday and Saturday, 11 a.m.-midnight.
Dollar Deal: Appetizers $4 to $8; hoagies/calzones $6 to $12; pizzas $8 to $25.
Décor/Atmosphere: Funky, colorful, eclectic, trendy, upbeat and lively.
Amenities: Very clean restroom with changing station; high chairs; and outdoor seating.
Got Milk/Juice: Plain and chocolate milk.
Phone: 704-269-5300.
www.mellowmushroom.com
> Read last month's restaurant review: Pure Taqueria