Fun Places: NFL Play 60 KidZone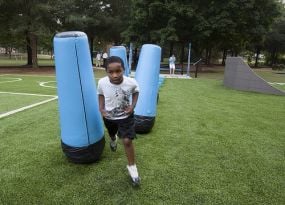 While cheering on the Panthers in the play-offs, create a family competition of your own at the Play 60 KidZone at Freedom Park.
The recently unveiled NFL Play 60 KidZone is a one-of-a-kind permanent play area that features an obstacle course, 40-yard dash with automated timing device, Play 60 photo booth, Pep Talk Station and other custom elements.
Kids of all ages, and Mom and Dad, can enjoy racing down the 40-yard line over and over trying to beat their best time. My 4-year-old loved it, and it was a great activity for he and I to do together.
The obstacle course has mini-climbing walls, a balance rope to walk across and there are to large climbing balls for kids to scale as well.
The KidZone was created to encourage children to 60 minutes of daily exercise, and this place just makes it fun!