Fun Makeup For Tweens!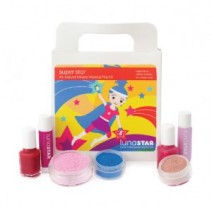 To all the mama's out there with little girls, I am so excited to tell you about a new line of natural, non-toxic, hypoallergenic mineral makeup designed just for young girls. Luna Star Naturals makes two lines of safe & healthy makeup for girls, Klee Girls and Luna Star Naturals, so if you have a girl who likes makeup but you don't like the chemicals in drugstore makeup, read on!
Luna Star Naturals also makes Pretendi Naturali all-natural face paint and PINKi Natural odor-free, water-based, peel-off nail polish. Klee Girls and that makeup line is intended for 8 to 14-year-old girls who are ready for makeup to wear on a regular basis, but their parents would just as soon they skip the chemicals. The Luna Star Naturals and Pretendi Naturali lines feature pretend play makeup for children ages 3 years and up, who would be tickled to have safe makeup to add to their dress-up imaginative play, Halloween costumes or birthday parties. And with PINKi Naturali nail polish, no more stinky nail polish remover, simply soak in warm water and peel off! All four product lines are made in the USA of safe and natural ingredients and shun harsh chemicals. Shop Luna Star Naturals here, and Klee Girls kits can be purchased at Kiwi's online shop or on Amazon.com.
Whitley Adkins Hamlin is a local stylist and mom to two boys under age 5. Follow her on Twitter @QueenCityStyle.