Fun Halloween Party Ideas for Kids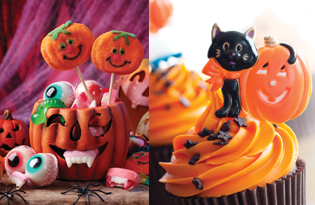 We're a family who loves parties. Any reason to celebrate finds us coming up with all sorts of ideas about themes, refreshments, activities and the guest list. There's one particular party my kids always remember: the "Best Halloween Party Ever." Not sure if this is because Halloween lends itself perfectly to kids' imaginations or because the party fun was a mixture of old-fashioned and new games with plentiful treats. Whatever the reasons, the party was a resounding success.
Logistics
Send out invitations at least a week ahead of time so guests have time to plan what they'll wear. We had 11 kids, the perfect number for four adults to keep an eye on. Start the party while it's still light out so you can do the messier activities outside. 
Outdoor Activities
Create your own personal graveyard. Before guests show up, saw pieces of wood into the shape of tombstones. Using glow-in-the dark paint (available at a fabric store), allow guests to create their own gravestone with the paint, including how they met their own untimely end. 
For example, my son Cal "tripped on a pail" and his brother Russ was "hit by a bus." Trying to find the best rhyming demise is amusing for all. When the paint dries, arrange headstones so they look like a real cemetery. Once night falls, admire them as they glow spookily in the dark. 
Bobbing for apples. Though it may be hard to believe, kids still love doing this, and the apples provide a nice contrast to all the sweet party treats. Be sure to choose small to medium apples as bigger ones are really hard to capture with your teeth. Also, have an old raincoat or poncho for the kids to wear so they don't get their costumes wet, and provide a hair tie for those with longer locks so they don't get a mouthful of hair along with their fruit.
Donuts on a string. This is another old-time party favorite, and it only requires a tree branch and varying lengths of fishing line or twine to tie donuts to. Whoever can eat the whole donut without it falling apart, wins a prize. Plain or cinnamon donuts help avoid getting sticky icing or powdered sugar all over faces and costumes.
Ghostly feast. Despite all of the food-oriented activities, kids burn up a lot of energy running around scaring each other, so you'll need some "real" food. Chili with corn muffins or corn bread is usually a popular choice with carrot sticks and black olives on the side, and apple cider. Purchase a Halloween joke book and entertain your young guests with seasonal jokes while they eat.
Indoor Fun
Trick-or-treat with a twist. For a twist on musical chairs, order "retrievers" that have skeleton hands on the end from a party supply store. Divide kids into two groups by age. Give each child a grabber, and throw a handful of candy on the kitchen table. When the music starts, kids grab as much candy as they can before the songs stop. Anything they grabbed is theirs to keep. For extra excitement, add a full-size candy bar, small rubber body parts or a dollar bill to the mix.
Jell-O jiggler eating contest. Have kids face off two by two to see who can eat three Jell-O jigglers the fastest with their hands behind their backs. Winners are pitted against each other until only two contestants remain for the final round. 
Sound effects. Remember scary sound effects and funny Halloween CDs. Most kids love to be just a little scared, so hearing creaking doors or heavy footsteps while they're outside in the graveyard adds to the Halloween atmosphere. They also get a kick out of silly songs like "Monster Mash" and "Shake Your Bones," which make good background music for indoor activities. 
Decorate. Halloween is not a holiday to be a minimalist. Your whole family can either buy or make props that make your party ambiance impressive and unforgettable. If you can't think of any good ideas off the top of your head, ask friends and family, or Google the holiday. Oriental Trading Company is a favorite online shopping spot of mine; it offers inexpensive, creepy paraphernalia. 
Remember, Halloween isn't just for kids. Wear a costume and join in the spooky fun yourself! 
Sue Henninger is a freelance writer and a frequent contributor to family magazines. 
Related Articles:
> 15 Ways to Enjoy Fall with the Family 
> Trick or Treat Cupcakes
> Host a Spooktacular Halloween Party
> Witchy Popcorn Balls
> Halloween Candle Holders