Fun Facts: 2014 Winter Olympics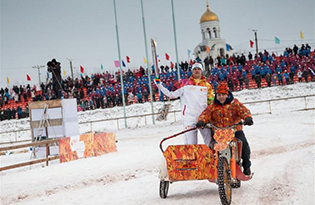 The 2014 Winter Olympics take place Feb. 7-23 in Sochi, Russia. To help you get started, read this list of little-known Sochi Olympic trivia with your kids and settle in for a thrilling two weeks of family-friendly television.
For more info and a full schedule of events, visit sochi2014.com.
Sochi stores snow a year ahead of time.
Sochi, Russia is a resort town known for its mild winters located on the Black Sea about 1,000 miles south of Moscow. Officials stored up 16 million cubic feet of snow in case the region experiences unusually warm temperatures during the Olympics.
Olympic Torch rockets into space.
The Sochi 2014 Olympic Torch was sent by rocket to the International Space Station, where on Nov. 9, 2013, Russian cosmonauts performed the first ever spacewalk of the Olympic Torch.
Costliest Olympics puts Sochi in record books.
It's reported that the city of Sochi spent more than $50 billion preparing for the Olympics – making it the most expensive Olympics ever. One ski jump alone cost the city $265 million!
Hockey rivals USA and Russia take to the ice.
On Feb.15, the U.S. Men's hockey team competes against Russia. Use this match-up as a chance to explain "The Miracle on Ice." America's win on Feb. 22, 1980 in Lake Placid, NY against the dominant Soviet team is often thought of as the greatest sports event of the century.
Ice sweeping helps the curling stone travel farther and straighter.
In the Olympic sport of curling, why does the sweeper use a broom to sweep ahead of the stone? Sweeping warms the ice and reduces friction causing the stone to travel farther and straighter. The goal is to have your stones closer to the target than your opponent.
Deanne Haines is a freelance writer and mom of three who enjoys writing about the pleasures and perplexities of parenting.