Fresh, Tasty Italian Fare in Indian Trail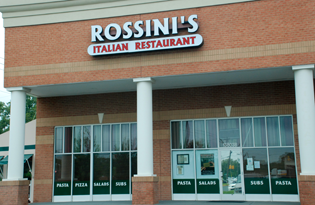 Rossini's Italian Restaurant
13803-A U.S. Highway 74 W., Indian Trail
704-882-3343
rossini-s.com
$-$$
Rossini's is a small, locally owned Italian restaurant located on Highway 74, found on the left just as you enter into Indian Trail from Charlotte. My 3-year-old son and I recently had a wonderful mother-son date there, and I was pleasantly surprised at how family-friendly the establishment is.
We were there well after the dinner rush, so people filled only a handful of tables. We chose to eat on the patio and had friendly and fast service. The server even took time to converse happily with my chatterbox preschooler.
The restaurant's website boasts that the chefs use only fresh ingredients, cook with virgin olive oil and use no preservatives or artificial flavorings. They offer about 30 kinds of wine, domestic beer and imported beer for those in the mood for a drink with dinner. There is a selection of soup, salad, appetizers, pizza, calzones, subs, Marsala and Parmesan dishes, pasta, seafood and even a few Greek gyros and souvlakis. Everything on the menu sounded appealing. I decided on baked ziti, and my son opted for basic chicken fingers and french fries. Both were steaming hot when they arrived at the table and tasted delicious.
We brought half our food home for later, although somehow we both managed to make room for a giant piece of chocolate mousse cake. I also was tempted by the cheesecake and the tiramisu, but the chocolate mousse cake sounded unique, and I was intrigued. I wasn't disappointed.
The restaurant also offers carryout and catering for all kinds of events.
Rossini's is closed on Mondays but opens at 11 a.m. every other day of the week, including Sundays.
SIDE DISH
Milk and Juice: Both | Changing Stations: Yes | Kids' Menu: Yes
Symbol Key: $ = under $10 * $$ = $11-$15 * $$$ = $16-$20 * $$$$ = $20-plus
> Read last month's restaurant review: JJ's Red HotsÂ