Fresh Skincare for Spring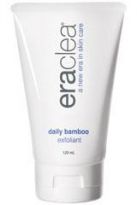 I was recently introduced to a new exfoliant that is just too good not to share. I think I got the fashion thing down pretty good, but unfortunately, I still have a lot of growing and learning to do when it comes to beauty and skincare. I'm a creature of habit, and I like very simple things. I have been using the same Mario Badescu cleanser and moisturizer for 14 years strong, and my daily make-up comes in the form of an eyelash curler.  
According to the brand, Eraclea is a daily exfoliating micro-scrub that removes impurities, oil and makeup and dead skin cells to leave the skin clean and fresh with a more youthful glow. It helps increase skin cell turnover rate and resurfaces the skin to reduce the appearance of fine lines, wrinkles, pores, age spots, discolorations and acne scars.
What really grabbed me with this product was the light fresh scent.  This exfoliant is a gentle non-abrasive one packed with natural ingredients "such as bamboo, which helps nourish, polish and smooth skin – all while providing antioxidants and vitamins". I suppose the Bamboo is the deliciously light scent. You may purchase Eraclea's Daily Bamboo Exfoliant, which retails for $40, on their website here.
Happy gentle scrubbing!  Whitley