Food for Thought: Pizza Pie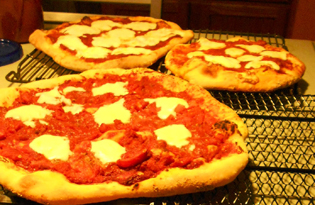 With school back in session and everyone in the family on some sort of crazy schedule, remember how important it is to take time out to spend an evening together. A family pizza night with everyone in the kitchen cooking is a great way to relax and enjoy each other's company. Plus, making your own pizza can really get those creative juices flowing.
Pizza dough is super simple to make and only takes a bit of advance planning. If you would like to make a whole grain variety, just use four cups of all-purpose flour along with 3.5 cups of white-wheat or whole-wheat flour in place of the 7.5 cups of all purpose flour listed in the recipe that follows.
Once you have the dough and the easy tomato sauce made, the toppings are entirely up to you. Why not visit a local farmers market and make your pizza with what is fresh and in season?  Squash, eggplant, mushrooms, onions, tomatoes and even fine shredded carrots make for great toppings. Pair them with local proteins, including browned ground beef; cooked, shredded chicken; or barbecue.
For a change of pace, instead of a pizza, use the same ingredients to make family calzones. A calzone is like an inside-out pizza. Roll the dough out the same way as you would for pizza, but this time pat it out into a round – about the size of a dinner plate. Put a cup or two of your favorite filling in the center and then fold the dough up and over the filling. Crimp the edges of the dough to seal everything in. Then bake it just as you would the pizza.
I like my calzones to have a creamy white sauce inside and often blend the sauce with spinach and shredded chicken.
Recipes:
> Easy Do-ahead Pizza Crust
> Quick Tomato Sauce
> Make-Your-Own Pizza Pie
> Chicken and Spinach Calzone