Foam Forever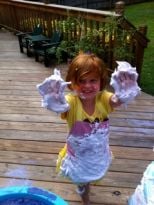 Some projects are so awesome that you never outgrow them. Just the mention of shaving cream brings an eager twinkle to Amelia's eye.
We were first introduced to the wonders of shaving cream and liquid watercolor almost three years ago, at what was then a brand-new kids' art studio, Small Hands Big Art. This is a place that is honest about art, and it's incredible. In those early weeks, the studio was painted completely white – floor, walls, and ceiling. Today, every surface is covered in layers of color, glitter, and joy. It's real and messy and fearless and we love it.
Anyway, Amelia was not quite two, and we were there for some kind of introductory open house class. The owner brought out a can of shaving cream and sprayed a big pile on the table in front of each kid. Amelia couldn't believe her eyes. The sensory experience of spreading, squeezing, and piling all that rich foam would have been enough. But then there was COLOR.
Using simple dollar-store spray bottles filled with liquid watercolor, she misted vibrant colors right onto the peaks and valleys of shaving cream. The colors landed in sunbursts, with splatters radiating from a concentrated center. Blue, green, yellow, red, purple. The kids dug in again, mixing and adding colors at will. I expected that within seconds, the rainbow colored mounds would turn a single shade of dingy gray. But they didn't. The colors didn't really mix at all, and as the kids played with the shaving cream, it absorbed most of the color and stayed pretty white. Magic.
Of course, the next day I ran right out and bought liquid watercolor and shaving cream, and tried this at home. And we've repeated it, with only minor variations, many times since.
Pull this out while hosting a playdate and your house will instantly become the hottest invitation in preschool!
Here are a few things we've learned about making a mess with shaving cream:
•    Use the most basic, cheapest shaving cream. We like Barbisol. It smells great, and you will go through a LOT of it. There's no need for fancy bells and whistles, nobody is actually shaving anyway!
•    A little goes a really long way with the liquid watercolor. I dilute it with more water in the spray bottles, about 1 part paint to 2 parts water. The colors are still brilliant, and three years later we're still using the original paint.
•    Amelia loves to spray the colors herself, and the trigger spray bottles are really easy for her to use and to hold.
•    Do this outside. Please. Cleanup is easy, but much easier if you can use a hose! We've used a cheap IKEA table on the deck, a water table, even baking trays in the grass. When you're done, hose it all off – or even better, follow this activity with a dip in the kiddie pool. Did you know shaving cream floats?