Flowers from Wonderland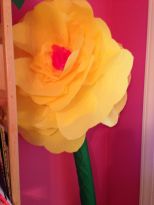 I wish I could take credit for this week's project, but I cannot. I have a crafty new friend, and I met her just in time. Her twin girls attended the same preschool as my daughter, and now that the kids are heading to kindergarten, we've finally met for coffee…oops, I mean a few playdates!
Anyway, their house is a great place for a playdate. It's full of cool and creative things that are homemade, beautiful, fun and meant to be played with. Not the least of which are the 7′ tall flowers just hanging around in doorways and corners all over the house.
WHAT? I had to know more.
The flowers are left from an Alice in Wonderland-themed party she made for the twins' fourth birthday. Not only did she make everything for this party – centerpieces, games, activities, cookies, decorations, costumes, probably more – she also made a bound photo book documenting the whole thing. I so want to be this woman when I grow up.
OK,  back to the flowers.  For each flower you'll need:
A pool noodle
About 8 – 10 sheets of tissue paper
A pipe cleaner
A glue gun or strong tape
A small pot or container slightly wider than the pool noodle
Concrete mix (optional)
Basically, this is a supersized tissue paper flower. There are MANY paper flower tutorials online and on Charlotte Parent, and any of them will work, just use whole sheets of tissue paper for each layer. The pool noodle is the stem, so a green noodle saves you the step of wrapping it with green tissue paper.
Once you've made a paper blossom, attach it to the end of the pool noodle. Depending on the shape of the flower, you may need to snip the ends of the noodle a little bit to widen it. The blossom can be attached with a glue gun or wrapped with strong tape.
You can stop at this point and you'll have a cut flower. But if you want a free-standing flower there's one more step. It needs to be "planted" in a pot. My friend filled large yogurt containers with quick-set cement and sank the bottom of the pool noodle into the cement. I used a glue gun to secure the noodle to the inside of a flowerpot, and then filled the pot with rocks and marbles.  Either way, the stem will be pretty floppy. If you want your flower to stand straighter, put a long dowel or yardstick into the hole in the center of the pool noodle before securing it to a base.
And that's all! Welcome to Wonderland!
Want more Mess? Visit Melanie's blog, or drop by her Etsy store, Made by Mommy!