Fishing Fun: Dads and Kids Reel in Some Fun Together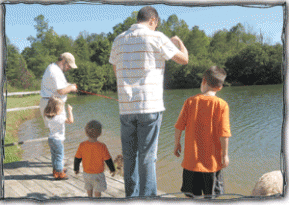 While some may think fishing is a hobby of days gone by, it still can be one of the most rewarding experiences fathers teach their children and hand down from one generation to the next.
Many dads of young children remember being taught how to bait the hook or let out the line by their own fathers, and recreating those moments with their own kids can be just as rewarding. In this fast-paced world, any chance for some peaceful, outdoor bonding – with nature and their children – might be all many dads need this summer.
What You'll Need
Kids, too, love a few hours of fishing, so when you're ready to spend some one-on-one time on a Saturday afternoon or pay hooky from work one afternoon, you'll find almost everything you will need at a sporting goods store or Walmart. There are even child-size rods, perfect for little hands.
You can purchase a fishing license for $5 online at ncwildlife.org or dnr.sc.gov. And a quick Google search for bait shops will yield plenty of spots where critters used for bait can be found. Once you have your rods, bait, a cooler with ice for storing caught fish and pocket knife, you are all set. But don't forget to pack other essentials, or the fish won't be the only things biting! Be sure to bring bug spray, sunscreen, snacks and plenty of water. Remember, being over packed is always better than the alternative. Crocs or shoes that can be rinsed are a great idea in muddy situations, and hats will keep sun off little heads.
Where to Go
Practice with your children before heading out. Having the chance to cast off the front steps or back porch into the yard is a lot easier than starting when you arrive at the water.
Safety is important, too. Bait can be tricky, and fishing hooks can be very sharp. And, most girls are not too keen on touching crickets and worms. Likely Dad should be prepared to bait the hooks. Also, when a large fish catches the line, it can be hard to reel in. If you see a child struggling, be sure to jump in before he or she falls in! Many local parks have excellent fishing spots, including Colonel Francis Beatty Park, Freedom Park, Reedy Creek Park and many more around the Charlotte area. Of course, you can't go wrong choosing spots at Lake Norman or Lake Wylie.
My children had the opportunity to fish with their dad on a trip to a friend's house on a lake. Because I had no desire to touch worms, fish or stand that close to the edge of the water, I watched from the porch. It was sweet to see them lined up, getting their poles ready.
Imagine my surprise when my two sons starting squealing and backing away when they saw the worms. I thought boys would love to touch worms, but when I caught sight of my husband holding the worm out in front of himself as though it would bite, I figured my sons at least came by it honestly! At the end of the day, you may have a full cooler full or one with just a few small minnows. However, the time you spent and the memories you made will remain with your children for years.
Get Your Gear and Go
Check with friends and neighbors to see if they have supplies you can borrow before heading to the store. Make sure the rod is at least 5 feet, and get good quality line. Most tackle shops will help you spool the reel and show you how to tie hooks and bait if you are new to fishing. The easiest rod for a child to use is a small lightweight model that costs about $20 – kiddie poles for the 5 and younger set are about $12.
You also could make a fishing pole by using a large, straight stick or a piece of bamboo. Simply tie fishing line to the stick and attach a hook on the other end. While not as pretty as one you might find in the store, making it together might make all the difference to your child.