First Time at Overnight Camp
What you and your kids need to know.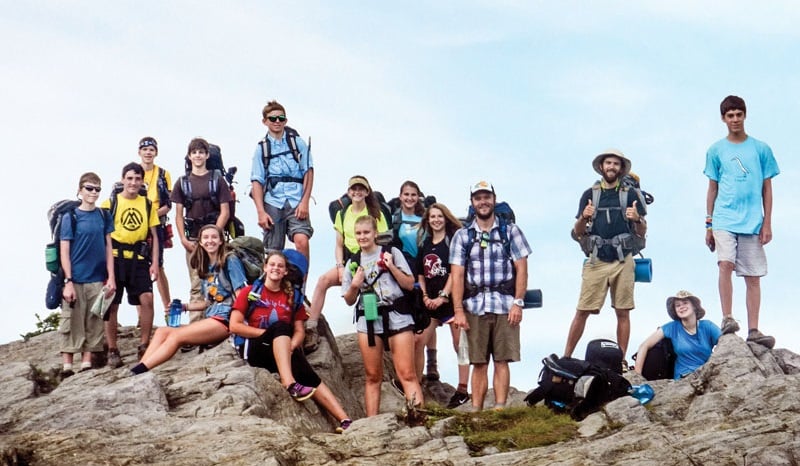 Planning for summer begins now. If you are considering an overnight or sleep-away camp — also known as resident camps — for your child for the first time, it's natural to have some apprehension about whether he or she is ready for the overnight experience. With careful research and consideration, a week — or half week — at a resident camp can be a great opportunity for kids to make friends, learn a new skill and further develop their independence. Use the questions below as your guide through the camp selection process so everyone gets the most out of the experience.
Is My Child Ready?
"Every kid is different," says Robert Danos, program director for 26 years at Camp Mondamin in Tuxedo, North Carolina. "I tell parents that when you feel that your kid is looking for that next adventure, that next chance to go and explore the world, it is your role to grab that urge and nurture it. For some kids, you might feel that [when they are] 6; for some kids you might feel that [when they are] 9."
Nick Wimmer, founder and executive director of Camp Canaan in Rock Hill, South Carolina believes children are ready when they are independent enough that they can remember to make their bed, brush their teeth and shower every day. Of course, some campers may not be the best at remembering to do make their bed, but camp counselors are there to remind your child about hygiene and household jobs.
How Do I Choose a Location? What About Cost?
Location and cost are personal decisions based on your level of comfort and financial situation. Charlotte's location in North Carolina is ideal for accessing resident camps with a variety of themes.
Keyana Harrison is a Charlotte mom to five children. When her oldest son, Jonuss Harrison, 12, went to an overnight camp for the first time, she wanted him close to family just in case there was a problem. He was two hours from home, but minutes away from extended family.
Resident camp costs vary from $500 to more than $1,700 per week. Amenities and services affect the cost of the camp. Many nonprofit organizations, like Victory Junction and Camp Carefree, offer free camps for children with special needs or circumstances. Camp Corral in King, North Carolina is a free five-day, four-night camp for children of military families. Because Harrison is retired from the Army National Guard, she was able to send Jonuss there twice in the past three years.
How Do I Choose the Right Camp?
First step is to consider what your child likes. Traditional camps have various outdoor activities like sailing, climbing, canoeing, horseback riding and mountain biking. There are specialty camps that may have an academic, art, water or sports focus.
YMCA Camp Hanes in King, North Carolina offers a four-day, three night Mini Camp for ages 6-9, which can be just enough for first-time campers to get a feel for what an overnight summer camp experience includes. It also has a higher counselor-to-camper ratio (1:3) ensuring counselors and campers can get to know each other and that campers feel secure in having a person to talk to at camp.
Before involving your child in the decision-making process, narrow down the options based on theme, location and costs. Then let your child check out camp websites. If you find a few that may be a good fit, plan to take a tour or go to an open house weekend.
"We encourage all of our perspective parents to just come out and visit," Wimmer says. Families have the opportunity to ask questions, meet the staff and even try out some of the programs. Open house events are held throughout the year. Be sure to check camp websites for open house schedules.
Also of importance is the philosophy of the camp. Be sure that the camp is doing what they say they are doing. Ask questions about a camp's mission and look at how camp programs align with the mission.
Who's In Charge?
Camp counselors are a large part of the camp experience. Counselors typically are high-school or college age, and supervise campers throughout day and evening activities. Counselors help guide campers in daily routines, and are the first to handle issues and problems. Harrison, like many parents, puts safety as her No. 1 priority.
"I want to be sure that the people interacting with my children have had a background check," she says.
Wimmer encourages parents to check that the camp hires credible staff and uses background checks. "Make sure [camps] have good training in place for their adventure programming and that they have staff that has gone through all of the necessary classes and training," he says.
Swift-water certification and AED (automated external defibrillators) training in addition to CPR and first-aid basics are essential for a camp with water activities, Wimmer says.
The staff to camper ratio also is important when choosing a camp. The smaller the ratio of campers to counselors, the more likely a counselor has the ability to get to know your child on an individual level. Larger ratios provide safety and crowd management, but may not foster the personal relationships that can come from having smaller camp groups.
A camp that has previous campers working as counselors is a sign of a good camp, Danos says. "I like to tell parents to ask any camp what percentage of your counselors were your campers," he says. He also recommends asking what the return rate is for staff each summer because returning counselors have a deeper understanding of what is expected of them.
Once research is done and decisions are made, the rewards of sending your child to camp are many.
"[Jonuss has gained] confidence and exposure to different activities. He has made friends. It has been a lifetime experience for him and he is always looking forward to it every year," Harrison says.
> 5 Things Kids Need to Know About Summer Camp
Vanessa Infanzon is a freelance writer in Charlotte. Last summer, she sent two of her boys to overnight camp for the first time. Follow Vanessa on Instagram and Twitter @morethanVMI.