Fireside Reads: 3 New Holiday Books for Kids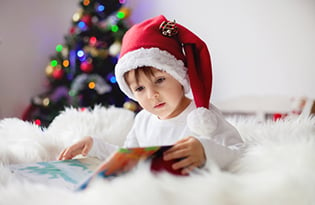 A clever twist on "The Night Before Christmas," "A Cookie for Santa" follows a gingerbread boy, baked especially for Santa's nighttime snack, who worries about his fate, but instead finds himself helping save Christmas from two rambunctious puppies. $15.99. sleepingbearpress.com.
"Skippyjon Jones Snow What" follows the fearless Skippito Friskito as he heads out for a snowy magical forest adventure with his seven "chimichango" dog pals to wake up Nieve Que, the frozen princess. $17.99. penguin.com.
"The Spirit of Christmas: A Giving Tradition" is a kind-hearted story of how one little boy receives an extraordinary giving bag from Santa and how his wish came true. $24.99. parkroadbooks.com.