Finding Time to Exercise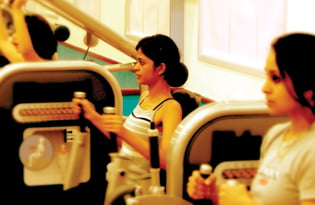 As parents, it is often challenging to find time to exercise between making lunches, work schedules, after-school activities and bedtime. While we know making time to take care of ourselves is important, it is often hard to find the time.
Syreeta Smith, a licensed Zumba instructor from Charlotte, and mother of four, knows about being busy, and recognizes the overall benefits of staying active. "Getting fit allows you to get healthy and be there for your child. It helps increase your energy level, your endurance and your overall quality of life. You'll be able to run and play with them and just keep up with them in general," she says.
Since North Carolina has the fifth worst childhood obesity ranking in the country, and 67 percent of adults in North Carolina are obese, it is important to make exercise a priority in your family. While many parents go for a run with their children in a jogging stroller or put their kids in childcare at a gym, there are several other ways for busy parents to find time to exercise.
• Exercise before everyone in the family is awake each morning. It's a great way to start the day.
• Pop in an exercise video while the children are napping, and get going.
• Exercise while you socialize. Grab some friends for a regular weekly exercise class, leaving the kids with Dad. Dance-based classes like Zumba and cardio funk offer upbeat music that gets you and your friends laughing and moving.
• Head to the park with a friend and take turns exercising and watching the kids play.
• Working moms can exercise at a nearby gym at lunch or head out of the office for a brisk walk.
• At sports practice, walk around the local field while your kids are on the field with the coaches.
• Turn the every day task into an exercise opportunity: do squats while you blow-dry; run stairs while kids brush their teeth; park in the farthest spot in the grocery store lot and walk a little.
• Exercise as a family by taking weekend hikes. Carrying a baby in a Snugli while hiking is an added bonus. Switch off with hubby when you get tired.
• Jog along while your youngest rides a tricycle or scooter. Begin with short distances to teach your kids how to stay with you.
• Train for a 5K together and run it as a family. There are many races in Charlotte year round.
• Play games with your children and really get into it. Freeze tag, jump rope, hopscotch or soccer will give you a good workout if you act like a kid again.
• Create a kid-friendly obstacle course outside with hula hoops, wood pieces and jump ropes.
Don't use your kids as an excuse not to exercise. Set an example for their well being by starting a healthier life now. Wellness is for life, and families that embrace getting fit together can enjoy a healthier and happier life.
Jennifer Gregory lives in the Triangle with her husband, two kids and three dogs. Most mornings she heads out for a jog before work.
Upcoming Family 5K Events
Get Your Rear in Gear 5K
March 10
Independence Park
CPCC Charlotte Skyline 5K
April 28
Central Piedmont Community College Campus
2012 5K Run and Walk for Clean Air
May 5
McAlpine Creek Park
Humane Society of Charlotte Kennelly 5K and Dog Walk
May 5
Independence Park
Ballantyne 10K/5K Race and 1-Mile Fun Run
May 19
Morrison YMCA